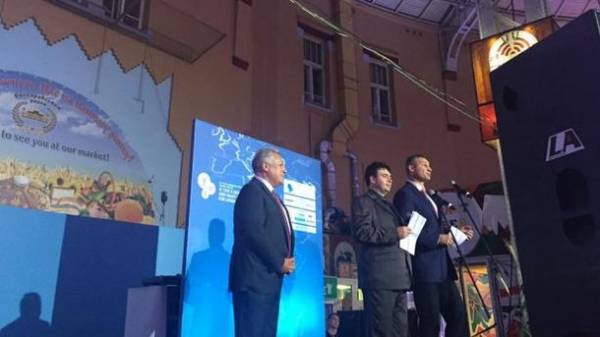 Grand opening of Yalta European strategy annual meeting, organized by the Victor Pinchuk Foundation, was held in the building Bessarabian market in Kiev. During the ceremony with a welcome speech traditionally made by the former President of Poland and head of YES Aleksander Kwasniewski, as well as the mayor of the Ukrainian capital Vitali Klitschko.
"Decisive implementation of reforms key to success of the capital and the whole Ukraine," he said.
"Ukraine is the fourth year opposes military aggression – occupied Crimea, in the East of the country killed our defenders. But this should not stop us, to stop reforms, fight against corruption, development of our cities. The only tangible change is the key to our success in addressing global problems ", – said the mayor.
Vitali Klitschko stressed that the capital should set an example for other regions of the country.
In addition, the mayor thanked the international partners and friends of Ukraine for their support in the fight for the integrity and independence of Ukraine
"Without this support it would be very difficult to resist military aggression. Believe me, we will overcome all the challenges currently facing Ukraine", – summed up the Klitschko.
Earlier, former Polish President and head of YES Aleksander Kwasniewski emphasized that the main message of the summit is freedom of people, Nations and the world. At the same time, the former Polish President explained why the opening of YES happened to the Bessarabian market.
Recall that the Yalta European strategy (Yalta European Strategy, abbreviated as YES forum) is an annual conference which gathers the most influential politicians and businessmen of Ukraine and the world. Held annually since 2004. The aim of the conference is the development of Ukraine and its European future, as well as establishing international ties.
The founder of the Yalta European strategy, Victor Pinchuk, a prominent Ukrainian businessman and philanthropist. It was in July 2004, invited about 30 European leaders to discuss the prospects of Ukraine's accession to the EU. And on the second day of the conference, some participants proposed to create an international organization that will promote Ukraine's European integration. So the Yalta European seminar turned into Yalta European strategy, an independent charity.
Comments
comments