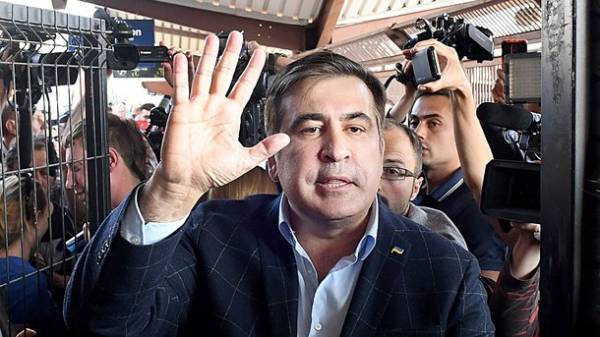 The bodies of the Ukrainian Prosecutor's office checks the request of the Georgian side to extradite former Georgian President and ex-head of the Odessa regional state administration of Mikheil Saakashvili, Minister of justice of Ukraine Pavel Petrenko.
"After receiving this request (from the Georgian side to extradite – Ed.) was sent all materials to the Prosecutor's office for conducting extradition check. At this preliminary stage. If (checking. – Ed.) to be completed with a positive conclusion, it will be possible to take further procedural decisions in strict accordance with the law," Petrenko said at a briefing on Tuesday in Kyiv, answering a question of journalists about what will be the actions of the justice Ministry's extradition request.
SEE ALSO
Saakashvili illegally located on the territory of Ukraine – Ministry of internal Affairs
As you know, September 10, at about 20:00 Saakashvili still managed to break into the territory of Ukraine, using the help of several hundred activists. The crowd, whose ranks were including people's deputies of Ukraine, broke through the ranks of guards at the checkpoint "shehyni" and had a policy in Ukraine.
According to the latest data, during the events at "shehyni" hit 22 strength: 13 police officers and nine guards. 14 people (four representatives of the media and ten foreign citizens) of those who illegally crossed the border in PP "shehyni" in the incident, has already received a received a Protocol about the violation. Saakashvili also signed a Protocol on illegal border crossing, but with the objection.
As stated on 11 September, the lawyer Saakashvili Markiyan Halabala, he applied to the State migration service of Ukraine the statement for recognition of his client "a person who needs additional protection".
"Mikheil Saakashvili may be subject to prosecution by the Georgian authorities," – said Halabala.
"Currently, the Main Prosecutor's office of Georgia is Mikheil Saakashvili four criminal cases in which the investigation and there is a trial. All these things are now being considered by the Tbilisi city court," – said the Prosecutor of the prosecutors office of Georgia Natia Songulashvili.
The Ministry of internal Affairs of Ukraine believe that Saakashvili is currently on the territory of Ukraine illegally, but his arrest is not sufficient reason.
We will remind, in the beginning of September , Ukraine received a request from Georgia for the arrest and extradition of Saakashvili. The Prosecutor's office of Ukraine said: given the fact that criminal cases, in respect of which extradition is requested Saakashvili, pending before the Tbilisi city court, according to article 574 of the criminal procedure code of Ukraine "the request of the competent authorities of Georgia will be considered by the Ministry of justice of Ukraine".
Comments
comments