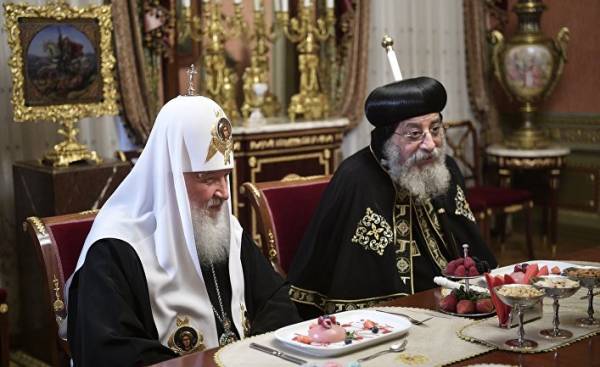 May 23, Fund of unity of Orthodox peoples (FEPN) gave the Patriarch of the Coptic Orthodox Church of Alexandria Pope Tawadros II award "for outstanding activity on strengthening unity of Orthodox peoples".
In his speech at the awards ceremony, the Pope Tawadros II announced his intention to transfer the award for the construction of mosques and churches in the administrative capital of Egypt. The following is the text of his speech:
"I am glad to visit your blessed country for the second time and I am happy to pray for all of you in the Church of Egypt. We love to your Church and happy to remember your visit to Egypt in 2009, and the participation of your Church in the enthronement of the Patriarch in 2012. God in his mercy has given us the opportunity to visit your beautiful country, a country about which we read and which we fell in love with before I saw. Today Russia occupies a special place among the countries of the world, and it has played an important role in the history of Orthodoxy.
I want to Express my gratitude to the international Fund of unity of Orthodox peoples, who handed me this award. I am grateful to the Russian Orthodox Church and all Russians. It's an honor to join the galaxy figures have received this award.
Standing in front of you now, I remember with what warmth and love you gave our delegation during our last visit to Russia in 2015. I also recall our agreement on the establishment of social, educational, and theological committees in the framework of bilateral cooperation. As a result, our relations have developed and strengthened. Our joy increased when we met with his Holiness Patriarch Kirill, the name of which I loved even before we met. Then I realized that it is inherent in genuine Christian qualities.
I would like to thank all of you for the love that I felt from the moment my foot stepped onto this land, and for the joy I see on every face that would look. We come to you from Egypt, a country with a rich history and culture, which say that it is a miracle of nature, her father's history and mother geography.
I came to you from the Egyptian Church, which had predicted in his book the prophet Isaiah: "In that day an altar to the Lord in the land of Egypt, and a pillar to the Lord at its border" (Is.19:19). Then, Egypt was visited by the Holy family, and thus the Egyptian land was blessed from East to West and from North to South.
At Alexandria was founded, the throne of the Holy Apostle Mark, who is one of the oldest Apostolic departments in the world. It was in Egypt first arose monasticism, and founded the monasteries of Antony, Macarius, and Pachomius, which are still sacred places for worship of God. We know that Egypt is not only in the hands of God, he —in His heart.
Let me ask you a question about the existence today of a culture that respects life, love and peace in the world. Humanity today desperately needs true love and true world. We live at such a pace, that we forget the basic principles of life, in pursuit of the demands of the world we forget to live in love and peace. Thus, we must constantly preach this way of life. Each person has his own mission. Each of us must realize that when God created man, He created him in his image, and man was the crown of all creation. When the Lord created man, He created him for a specific mission. A Christian in any society must be a beacon of light and goodness. As said St. John Chrysostom, "every Christian should be full of love." We live in a difficult time. The world is mired in materialism, it is saturated with knowledge and information, and lacks love and spirituality.
The world yearns for love. Today on earth we will not be difficult to find barren places. As the Scripture says: "the full soul loatheth an honeycomb" (Prov. 27:7). When soul lacks love, violence, crime and terrorism, and we are responsible before God to prepare the hearts of the deprived of love, to drop them a seed of love for God and neighbor, and fill their souls with human and Christian values, chief of which is love. As said Russian philosopher: "Spiritual love brings people together and fosters friendship". Such love is desirable. Our love is God, and Christianity is love. As we say, "God is love" (1 Jn. 4: 8). The Bible says: "If your enemy is hungry, feed him, thirsty — give him a drink; for in doing this, you will heap on his head burning coals" (ROM. 12:20).
Russian Proverbs says: "Do good to your friends and they will love you more, do good to his enemies, and they shall be your friends." It is Christian love that goes beyond all bounds of reason and exalts man above the hatred, narrow-mindedness, and leads to righteous love toward all people, regardless of their religion, colour or culture. This love is not superficial, but comes from a pure heart.
The peace of God — the river of abundance this world is beyond our understanding and feelings, but he always gives a person a sense of security and peace. As the Bible says: "blessed are the peacemakers, for they shall be called sons of God" (Matt. 5:9). So every day in our prayers we ask: "Lord, grant us Your peace." The Bible requires of us: "If possible, on your part, live at peace with all men" (ROM. 12: 18).
We have light industry and heavy but peacemaking is the most difficult sphere of activity, which requires the maximum application of our efforts. Thus, we must live, create and teach our children to create peace and goodness. This mission is the most beautiful of all, and there is no wealth greater than love and peace. The fruits of love and peace, can only be love and peace.
The spirit of God lives in us, but considering the inconsistency and confusion that exists around us, we pray to be in unity, and feel our responsibility to the world was this stage. We must become the nucleus of peace on earth by instructions, admonitions, people, becoming an example for them. We need to teach every Christian family. We must teach children from an early age, because the family is the cornerstone, the Foundation of the Church and society. So, all we read about the wise girl Mordecai and Esther, which became the strong and courageous Queen who saved her people through fasting, prayer and wisdom. So let's together imagine a future in which our children live in peace and love!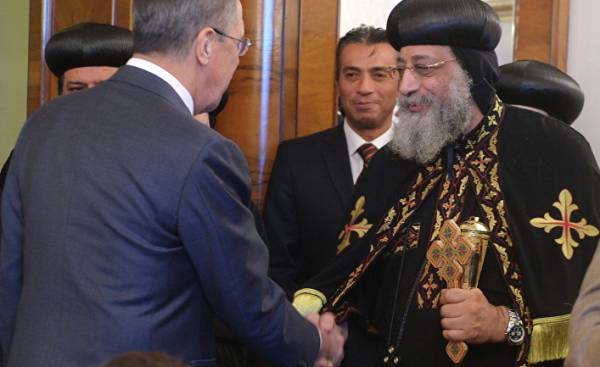 © RIA Novosti, Artem Zhitenev | go to photobanks foreign Minister of the Russian Federation S. Lavrov with the Alexander Pope
We should not reject this world. We believe that God leads the world with three laws. The first law says that God loves all people, regardless of their culture, religion and status. In the Bible there are many examples of this, one of them says about the Samaritan woman who was rejected by society, and in the other on the acceptance of the gifts of the Gentile Magi who came from another world to present their gifts to Christ.
The second law States that the Lord will grant us good, and everything he sends us is for the benefit of our life because it is written: "and we know that to them that love God and are called according to His purpose, all things work together for good" (ROM. 8:28). It is our love for the Lord helps us to see his hand is always outstretched to us.
The third law States that the Almighty God, and nothing occurs without His will. Regardless of adversity we pray and say: "Blessed be the Lord our God, who day by day shows us our path, because He gives us salvation." He controlled everything — what we see and what we cannot see, all life is in the hands of the Supreme Lord.
This is our message that we want to announce today to convince you that we are all called to proclaim the human right to live according to these values. Here in Russia they say: "the Purpose of life is to attain God bequeathed to happiness, and anyone who wants this, does the will of God".
Together we bring love and peace, and every person on earth needs them, regardless of where he lives, what his status, skin color, religion, and I am sure that the Church can do very much. As said Russian writer L. N. Tolstoy, we must make the world happy, and to take full responsibility and not to throw it on someone else's shoulders.
I am confident that we will reach even greater joy and our life will become better. Today in our Church in Egypt with the help of special programs we are preparing a new generation of servants and handmaids, so that our service meets the demands of the modern world and the biblical commandment: "Renew our days as of old" (PLC. 5:21). I hope you have a great experience in this business that you can share with us.
Thank you again for this precious award, the credit for which belongs to the deceased Patriarch Alexy II. I thank you for your love and love to give this award to the creation of a cultural center that includes a Church and a mosque in the new administrative capital, which is now being built in Egypt, and I would also like to invite you all to visit it. We will continue to pray for the world, I am sure, blessed as I witnessed the birth of saints and martyrs, and I also believe that everything that God gives us in life is a blessing for us.
Feelings overwhelm me, but I don't want to waste your time, so thank you again for the kind invitation and also invite you all to visit Egypt and our monasteries. We look forward to new meetings with you. Let you live the word of Christ, God bless you. Thank you all".
Comments
comments