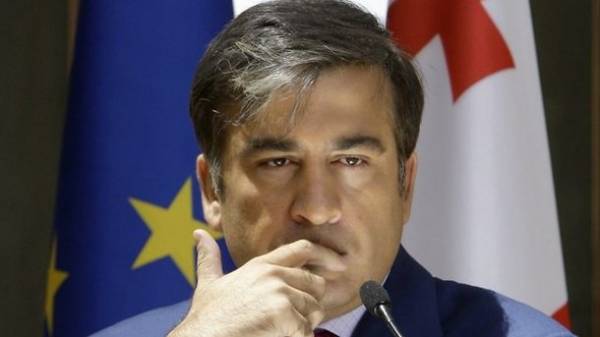 The former head of the Odessa regional state administration, Mikheil Saakashvili on Tuesday, September 12, near Lviv hotel "Leopolis" in the presence of journalists having reviewed the administrative report on illegal border crossing.
According to people's Deputy Yuriy Derevyanko, this is a lengthy procedure which can take about an hour.
SEE ALSO
Gerashchenko said one of the deputies helped Saakashvili to break into Ukraine
Saakashvili and his supporters insist on the fact that the Protocol was supposed to serve for three hours after crossing the border, and declare the fixing of this "violation".
As you know, September 10, at about 20:00 Saakashvili still managed to break into the territory of Ukraine, using the help of several hundred activists. The crowd, whose ranks were including people's deputies of Ukraine, broke through the ranks of guards at the checkpoint "shehyni" and had a policy in Ukraine.
In the course of events at "shehyni" injured 16 security officials. The police have already made information on the fact of breaking the boundaries of Saakashvili in the Unified register of pre-judicial investigations under article 332 "Illegal transportation of persons through the state border of Ukraine". Article provides imprisonment for the term from three to seven years, if these actions committed on preliminary arrangement by group of persons.
Recall. at the beginning of September , Ukraine received a request from Georgia for the arrest and extradition of Saakashvili. The Prosecutor's office of Ukraine said: given the fact that criminal cases, in respect of which extradition is requested Saakashvili, pending before the Tbilisi city court, according to article 574 of the criminal procedure code of Ukraine "the request of the competent authorities of Georgia will be considered by the Ministry of justice of Ukraine".
Comments
comments