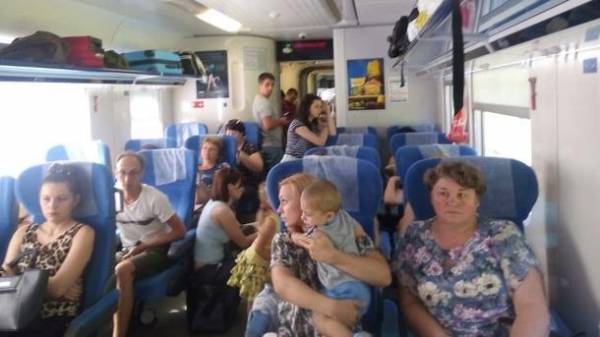 The passengers on the train "intercity", which was intended to get to Ukraine ex-the Governor of Odessa region Mikheil Saakashvili, "Ukrzaliznytsya" offset the cost of the tickets, as they become hostages of the situation stopped in Przemysl (Poland) by train. This was stated at a briefing acting head of PJSC "Ukrzaliznytsia" Evgeny Kravtsov, reports UNN.
According to him, the company has paid people all orders which received.
"Already asked for compensation for the tickets and the corresponding losses, today we have received such requests and fully compensated for all that was to the Railways, amounting to about 50 thousand hryvnia," – said Kravtsov.
SEE ALSO
Police arrested the associate of Saakashvili posted a video of his skirmishes on the border
He noted that the uz had no right to miss the train. on Board, as it violated the Ukrainian legislation.
"During the situation on the border, the departure of the train was grossly violated the requirements of Ukrainian legislation and procedure for the carriage of passengers because one passenger, who has not submitted the necessary documents to Board the train. We, as carrier, had no right to send the train, because in this case violated the procedure of passing trains across the border," – said Kravtsov.
As you know, September 10, at about 20:00 Saakashvili still managed to break into the territory of Ukraine, using the help of several hundred activists. The crowd, whose ranks were including people's deputies of Ukraine, broke through the ranks of guards at the checkpoint "shehyni" and had a policy in Ukraine.
In the course of events at "shehyni" suffered 22 strongman. The police have already made information on the fact of breaking the boundaries of Saakashvili in the Unified register of pre-judicial investigations under article 332 "Illegal transportation of persons through the state border of Ukraine". Article provides imprisonment for the term from three to seven years, if these actions committed on preliminary arrangement by group of persons.
Comments
comments