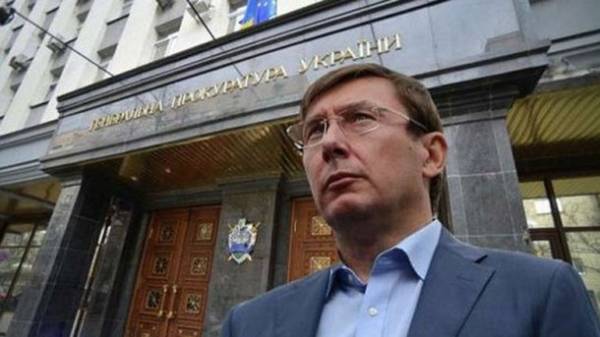 The General Prosecutor of Ukraine Yury Lutsenko declares that the persons responsible for the organization of illegal crossing of the border checkpoint "shehyni" (Lviv region), as well as the people who led and contributed to the unlawful acts must be prosecuted.
"The law requires to prosecute those who organized illegal border crossing, supervised such actions, or contributed to by councils or actions. It will be done. How will be assessed and actions of government institutions in the course of today's events," wrote Lutsenko in his page on the social network Facebook late on Sunday evening.
Commenting on the incident on Sunday on the border events, the Prosecutor General of Ukraine expressed the view that fighting for power, supporters of the party leader "movement new forces", the former head of the Odessa regional state administration Mikhail Saakashvili "destroy the state".
In this regard, he stressed that the only way to resolve disputes about the legality of the actions of the authorities against the court and the power scenario to resolve the issue – "a precedent for supporters Zakharchenko, Yanukovych, Klimenko, anyone who gather a couple of thousands of activists."
Lutsenko noted that "whether the support of this Parliament and the society, depends the future of the Ukrainian State," adding that "the power of law is the Foundation for its stability, but the law of force – a critical threat to the existence".
Earlier it was reported that the former President of Georgia, former head of the Odessa regional state administration Mikhail Saakashvili managed to cross the border and enter the territory of Ukraine.
Recall that in late July, Mikheil Saakashvili was deprived of Ukrainian citizenship because of the provision of false information in the application for citizenship.
The former head of the Odessa regional state administration denies any wrongdoing and vowed to appeal the decision on deprivation of his Ukrainian passport.
At the beginning of September, Ukraine received from Georgia's request for the arrest and extradition of Saakashvili. In Georgia ex-President faces up to 11 years in prison on the four felony cases. He is suspected of involvement in the killing, raiding and misappropriating public funds. In turn, the Georgian ex-President says the criminal case was fabricated with the purpose of political persecution.
Comments
comments