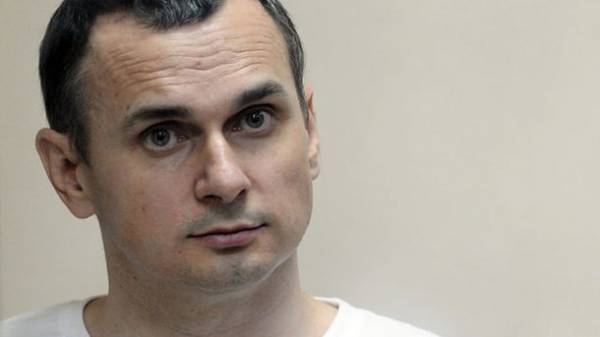 Ukrainian film Director, a political prisoner Oleg Sentsov sent to the detention center of Irkutsk.
About this stated in the Public monitoring Commission of Irkutsk, reports the website of the Council of defenders of Irkutsk.
As told the human rights defenders Sentsov, the reason of transfer from a penal colony in Yakutia in the detention center of Irkutsk he doesn't know.
According to the report, currently Sentsov is "in the basement "red" corps of Irkutsk prison — in solitary".
According to the ONC, the conditions in the chamber "is good, the camera after repair of fresh, clean, dry".
"Oleg feels good, they say Hello," say the defenders.
Earlier it was reported that Ukraine together with the world will continue to fight for the release of unlawfully convicted in Russian Director Oleg Sentsov. The President of Ukraine Petro Poroshenko said in his message to the workers of cinematography on their professional holiday.
We will remind, the Director Sentsov, activist Oleksandr Kolchenko was detained by employees of FSB of the Russian Federation in the occupied Crimea in the spring of 2014. They were transported to Russia, where he was tried on trumped-up charges of organizing terrorist attacks and arson of party offices on the Peninsula. Both pleaded not guilty.
In December 2014 the Prosecutor General of Russia stated that Sentsov and Kolchenko are Russian citizens, because after the annexation of the Peninsula, they expressed no desire to maintain another citizenship.
At the same time, Parliament Commissioner for human rights Valeria Lutkovska said that Sentsov and Kolchenko are actually imposed Russian citizenship automatically, like most residents of the Crimea, and to abandon it for one month they, being in prison, could not.
A Russian court on 25 August 2015 announced the sentence Sentsov and Kolchenko, condemning them to 20 and 10 years imprisonment respectively.
The Ministry of justice of Ukraine addressed a request to Russia on the transfer of Sentsov and Kolchenko as citizens of Ukraine.
21 Oct 2016 Russia refused the transfer of Sentsov and Kolchenko Ukraine.
Comments
comments