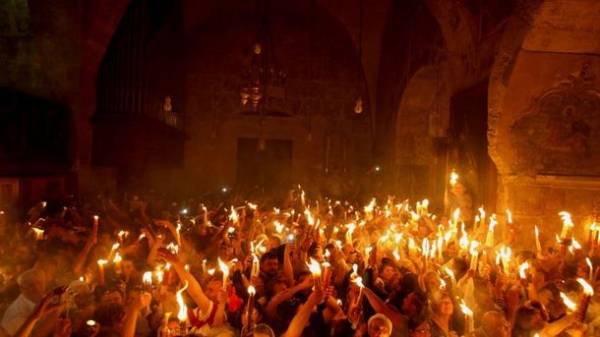 In the Church of the Holy Sepulchre in Jerusalem today, April 15, Holy Saturday the Holy fire descended, which is expected by pilgrims from all over the world.
According to the information Center of the Ukrainian Orthodox Church of Jerusalem, a miracle of the Holy fire this year occurred at 14:22 local time. The fire quickly spread to those who were inside the temple, after which he was given waiting on temple square.
Witness the miracle became the official Ukrainian delegation headed by the Chancellor of the UOC Metropolitan Anthony (Paganisim).
"Holy Saturday is a day of great hope. We already know that the Lord will be resurrected is a historical event. To reinforce our faith, the Lord sends us the Great miracle of the Holy fire. This fire, as the harbinger of Easter, sanctifies the life. We know that Easter will come, that God loves man and that God has patience for us. He came to earth to overcome human sinfulness, to give eternal life. Holy fire – it is the warmth of God's grace, warming each person," said Metropolitan Anthony.
According to him, the Holy fire in the first minutes of convergence burned and resembled the warming rays of the sun. He was gradually heated, but not burned.
"It's important for all believers, no matter where they live and what nationality. The Holy fire affirms that in Christ all people are loved by God," said Metropolitan Anthony.
During the descent of the Holy fire sounded politely in different languages.
"There are people who do their closeness to God worried in silence, as is the temperament of the Orthodox Arabs, who Express their love to God by dancing. It is also very important. The Ukrainians – it's people in the middle of these temperaments. We are waiting for the Holy fire, because it is heat, which the Lord gives to each person. And now we all need such warm. In our native land so much grief. Holy fire should warm every family. I hope that through this grace of Easter, the harbinger of which is Holy fire, the Lord will give us understanding, will send inner peace and harmony. And it will provide the basis for prosperity of our Motherland", – said Manager of UOC.
The Holy fire today evening will be delivered in Kyiv the official delegation of the Ukrainian Orthodox Church. Representatives of the dioceses will receive the Holy fire in the hall of official delegations of the airport "Borispol".
Meeting of the Holy fire in the assumption Cathedral of Kiev-Pechersk Lavra will be around 23.00. The Primate of the Ukrainian Orthodox Church his Beatitude Metropolitan Onufry will distribute the Holy fire to thousands of believers who come on the night Paschal service.
From the capital of the Holy Fire takes in all dioceses of the Ukrainian Orthodox Church, that all may feel the joy that took place in the Holy Land.
Comments
comments