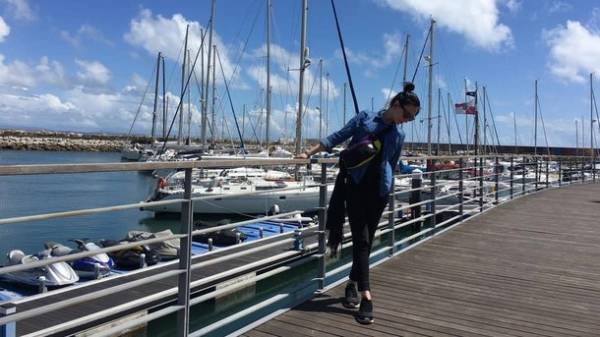 Travel with a friend or a big company, of course, fun. But there are people who are single trip is not a burden. On the contrary, without companions they are comfortable, and that to rely only on yourself, only adds excitement. Now imagine that a solo traveler and a girl. "This is dangerous! In a foreign country alone?!" — apricity pessimists and paranoids. But our heroine by his example refutes all the "horror stories". However, everything in order.
Natalie: drove three countries for 100 euros
13 countries visited from Kiev Natalia Korzh — copywriter and travel fan. The most desperate experiment of a girl — three countries in five days with a budget of 100 euros. Tickets cost 53 euros for everything else — 47. Of Luggage small backpack. Housing Natalie searched on couchsurfing, but no surprises there were: "At the last moment refused to host in Krakow — emergency trip. And this is one of the risks: the booked hotel guarantee, but the host can be surprises. Fortunately, quickly responded to the other guy. But it turned out that he lives in the suburbs. Arrive on the train station almost in the middle of the field, the dark, unknown village, not a soul around! I only had photos of the house, which he threw on the phone. Barely found! David was a wonderful family — a sister, mother, boyfriend and two dogs. We instantly became friends. They often accept people from all over the world are very open and friendly."
Not always the owners (hosts), leaving for work, leave guests in the apartment, but our heroine was lucky. In Prague, the landlord helped the girl in the morning leave the backpack, and then agreed to meet under the famous "dancing house". "Knowing that I was into photography, Yang has proposed to climb to the roof of one unique building, with a beautiful view of the city. Rally lied to the security guard that I'm a blogger from Ukraine, I played along, and it worked!" — laughs Natalie.
In France, she traveled 9 days: visited Bordeaux, Toulouse, Lyon and Paris. "Once the French host literally saved me from being late for the train — said from Kiev. — 10 minutes before departure, but I still have a bag in the storage room. We split up: I grab the bag, and he ran to find the path of departure. In the end, I jumped in the car at the last minute! Would otherwise have to spend on new ticket."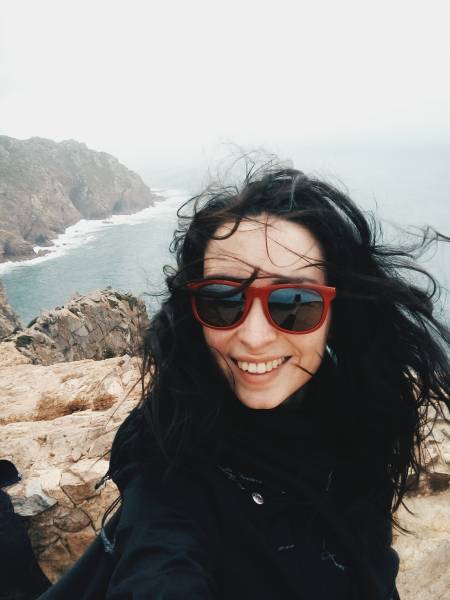 Light. Natalie toured one of 13 countries. Photo: archive of N. The cake
All solo travelers, our heroine recommends to keep your eyes open, do not hesitate to ask and clarify: not all countries will answer you in English, but always with gestures or drawings to explain what you want. "All the necessary medicines it is better to take advises Natalie. In European pharmacies without a prescription you sell unless analgesic or herbal remedies. Eat beneficial food from supermarkets: for 10 euros you can buy some food for the day".
According to our heroine, to travel alone is very cool — count only on themselves and know the country is not on the tourist maps, and a chat with the locals. Many of whom have become friends for a long time and then happy to come to Kiev — and then it's your turn to show themselves hospitable hosts. If you can not take them at home, you will not be offended: it is important to take the time to show favorite places in the city and atmospheric cafes.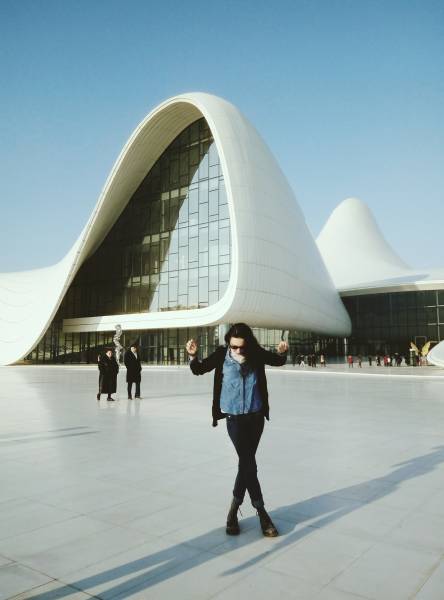 In Baku. Went in the winter and did not regret it! Photo: archive of N. The cake
Turkey: a place of strength for Anna
For Anna Dikovskiy of traveling alone is a kind of meditation. "I'm more comfortable one — says Anna. — I meet with itself in trips. Never book accommodation — all find in place, can change his mind and go to another town. Love to spend hours wandering the streets, wondering, enjoying, absorbing the culture, the flavor of another country. I love Turkey — live there for a month or two, in a non-touristy places. Can walk 10 km to another town to have lunch in a local diner, ask the owner to teach me how to bake local bread — failures do not happen! Once five days in a row came in the Turkish vegetarian café and cooked with the chef. I love going to the markets — those for local. Turkish before I learned English, so we communicate freely. Near Bodrum once lived for two months — this is my place of power. I love to walk the mountains and explore the country for themselves again. Turks are very hospitable: you should sit down with a Cup of coffee and in 20 minutes you have to present the dessert name.
In June, I traveled to Northern Italy. So, in Sicily we trump arrived at the same time! (Laughs.) Places in hotels was not everywhere settled police. I went to a restaurant, took a Cup of coffee, met with the owner, he shared his problem. He immediately called a few friends and an hour later I settled in a historic apartment in the heart of Catania!
Nearby there lived a couple from Bulgaria, we often had dinner together, and now they call me to stay in his big house. In Rome I was lucky enough to live in the family: Italian mother made me a real pasta by hand, on a typewriter. We were cooking food. A few hours of communication with this family, I learned about Italy more than in all their previous visits here."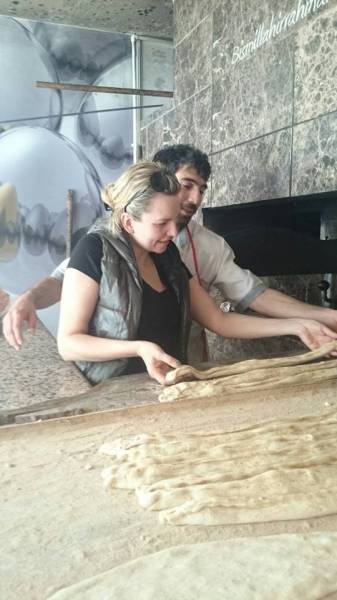 Turkey baked local bread. Photo: archive of A. Dikovsky
Live in style kauchserferov
Renren (literally, "moving sofa") is not just "ball", it's a lifestyle. The kauchserferov faster to find a common language with people, unite with the same interests. First and foremost is communication, meeting new people and immersion in the local environment. If you come to the host (the so-called those accept guests) and will silently sit in the corner with the phone, it is unlikely he will leave you a good review. It is not accepted just use the opportunity of free accommodation. The host therefore it is advisable to bring a small souvenir, do not ask more than three days, not to empty his fridge (if he will offer) and to pay attention to time invited. "Not always couchsurfer offer private room, food and all the amenities. Sometimes write, say, a sofa, but the bed linen so, says Natali Korzh. — Or even offer a bed in… sleeping bag. In any case, you need to specify all points of principle in advance."
SEE ALSO
Autumn in Paris: what to do in the capital of romance
Ekaterina Egorova: "One night, walked to the border"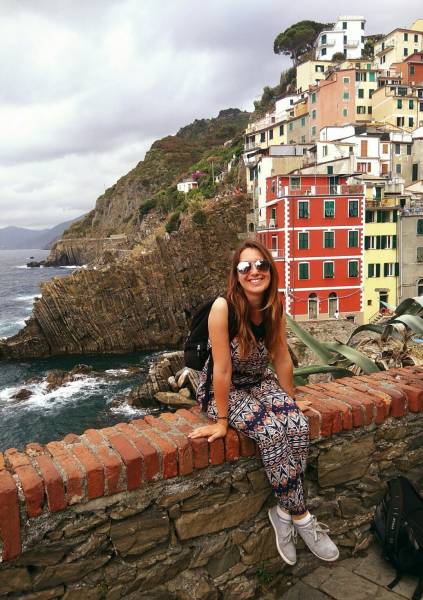 Optimist. In Italy, the kauchserferov showed Kate a beauty. Photo: archive of E. Egorova
— Kate, why do you go alone? Surely such a sociable person with many friends and girlfriends who will be happy to join you.
— In fact, the single journey is more about himself, not about tourist interest. Breaking away from the routine, the same "comfort zone", you begin to understand what you really want and what you are capable of. It is very transformative. And, of course, hardens in many things in life.
Every day I travel, I meet an incredible number of people. When you arrived with his company or even with a friend — all the time you "cook with in one pot", there is no need to meet someone to speak English. One you open to the world, easily go on contact with strangers, ask for help, learn life inside the country.
— You know what trips you're using couchsurfing — stay for free at a local who are registered on this website. How does it happen?
I registered on the site and wrote in detail on the page that I wonder how I can be useful. This is important, because people choose you not just in appearance, but also by shared interests and lifestyle. At my request on any city almost always responds to several people! Since most hosts (called so those who are ready to receive guests) — men, I always write what I can to help around the house and to cook. And guess what, it works! (laughs)
The risk is that we spend the night in the house of unfamiliar men, virtually no. A lot of positive reviews on the host — so there is nothing to fear. In General, adverse events in couchsurfing are rare. You know, once a guest stole host's laptop, and one guy ran into the annoying host gay. But this is a rare exception.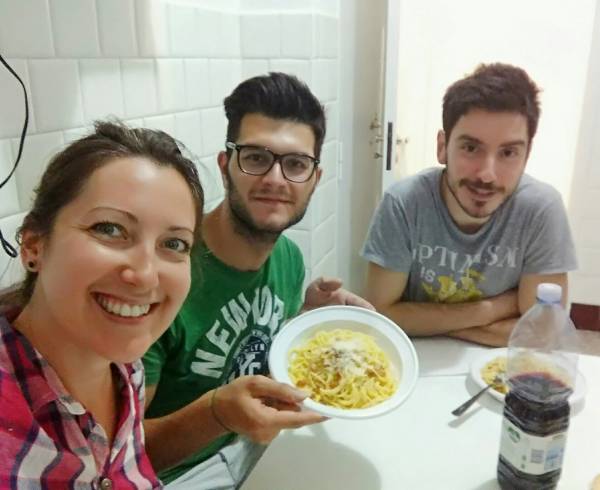 Friends. Katya easily gets acquainted with people in any country. Photo: archive of E. Egorova
— I know that recently you traveled to Italy…
— It all came spontaneously: I saw on the website cheap tickets to Bologna and immediately bought them. Nothing planned, was afraid that will not be able to find a host in this city because the plane flew at almost midnight. The answer to your query was already on the way to Borispol! That is, two hours before the plane still didn't know where I'll be tonight! Massimo asked what is my Luggage? I replied that only a backpack (I always take at least because fly low-cost airlines). Imagine my surprise when he met me at the airport of Bologna… on a motorcycle. And we with a breeze rushed through the night streets, stopped in a nice cafe. Home Massimo was waiting for me a favorite Italian ice cream and morning coffee on the terrace. Romance!
— Are you planning your trip?
— In General terms (smiles). Were going to Italy for a week and stayed for a month. Traveled to 12 cities! In Florence, for example, taken in the evening to attend some activities. With new friends we visited and the wine tasting and dinner in a closed private club, went to a live music concert in the Park. This is why I love to live local — you get to the unique event at a discount for her or free.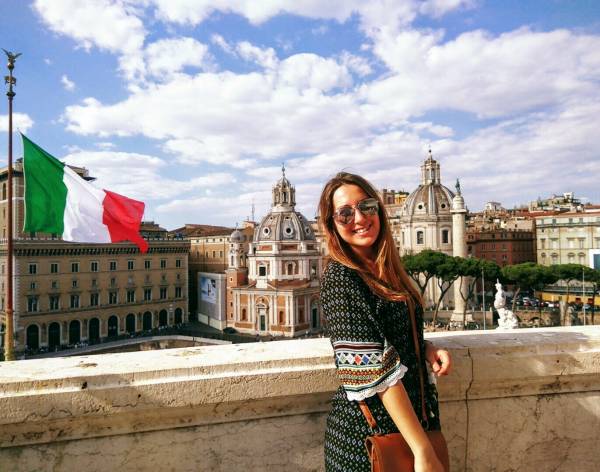 Rome simply can not get bored! Photo: archive of E. Egorova
— How much you spend a month in Italy?
— 550 euros — considering the road, entertainment, dining, Souvenirs, and entrance to museums. I lived in normal conditions, well fed, daily acquainted with interesting people. It is important to record expenses, otherwise, a lot is spent on trifles. For drinking water you can bring a bottle in many European cities, the water is free. To save on travel around the city, it is better to take a travel for the day.
— Have you had while traveling in a stalemate situation?
— He came once at the station in záhony (Hungary). Look — no people, no taxis, no trains… And the station is closed until morning. And I went to look for the border… on foot! Night! The Navigator in the middle of nowhere did not work, went on a whim. Lost. Start to stop the car to ask for directions. Stopped the poles, the family, according to "Ukraine" and "Chop" understand what I need and offered a ride to the border! Everywhere has good people, it's true. Then I drove the car with Ukrainian numbers — the boys went to Uzhgorod. From there took a train to Lviv. Voila!
— And to you guests come?
— Don't always have that opportunity — I live in a rented apartment with a friend. But recently took a guy from Turkey, a pilot for Turkish airlines. This is the nicest Turk I ever met! We joked that he must be the only one from his country who is in Kiev, even in museums walked. So, down with stereotypes, people choose on human qualities!
— Now, as far as I know, you spend travel meeting for travelers. Who comes to you?
— I thought the experience of traveling alone I have a lot — Malaysia, Singapore, Thailand, Hungary, Poland, Italy. I wanted to share their stories and recommendations with others. So there was a draft. Participants of our meetings — girls who visited the most incredible places on the planet!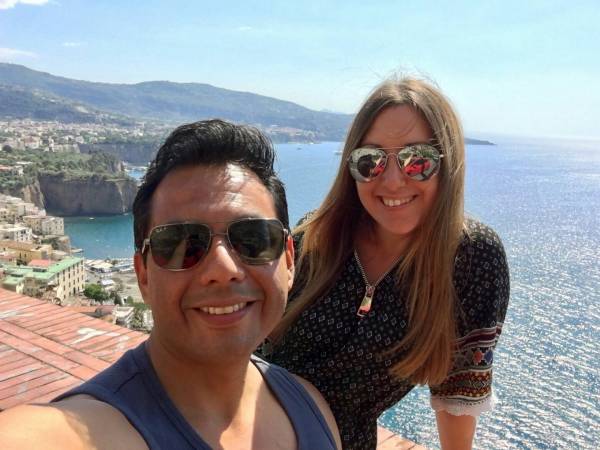 George. Sheltered by a Ukrainian woman. Photo: archive of E. Egorova
Comments
comments