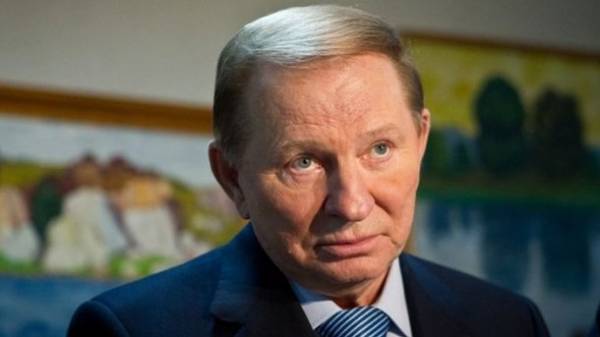 The representative of Ukraine in the Tripartite contact group (TCG) on settlement of the situation in the Donbass, the second President (1994-2005) Leonid Kuchma doubts that in Ukraine will be introduced peacekeeping troops.
"Russia wants to drive into a corner the situation, then what we don't know how to leave," he said.
Kuchma expressed hope that if the peacekeeping troops and will be introduced in Ukraine, then they should be throughout the country: "Peacekeeping troops must stand on the territory of Ukraine".
He did not exclude that peacekeeping forces can stand on the line of contact, "but the Ukrainian-Russian border be sure, the border – Holy of holies".
The representative of Ukraine in the TAG also expressed bewilderment in connection with the idea of bringing peacekeepers to the protection of the Special monitoring mission (SMM) of the OSCE.
SEE ALSO
Putin's version of peacekeepers in the Donbass will not support even the China – Bildt
"What is peacekeeping troops to protect the Special mission of the OSCE? This is a travesty: peacekeepers must protect peacekeepers. Introduce peacekeeping troops to protect people and to help end the conflict the warring parties", – he stressed.
According to Kuchma, today 400 km unprotected border of Ukraine is "a purely Russian border".
Russian President Vladimir Putin at a press conference following the summit, the BRICS declared that admits the presence of UN peacekeepers in the Donbas. But we can talk "only about the function of ensuring the safety of OSCE staff". And do peacekeeping forces "must be on the boundary line, and to any other territories."
In response to Putin's proposal to the foreign Ministry of Ukraine said that the deployment of the UN peacekeeping mission in the Donbas should be agreed with Kiev, to provide for the withdrawal of all occupation troops and mercenaries and their weapons from the territory of Ukraine and to ensure a reliable control of the Ukrainian-Russian border.
In addition, there can be no question of participation in the mission of the military or citizens of the aggressor country, as well as the consent of the Kremlin-controlled groups ORDA to conduct peacekeeping operations.
Wednesday, September 6, the permanent representative of Ukraine to the United Nations Volodymyr Yelchenko handed to the UN Secretary General, Antonio Guterres and the President of the UN security Council a written statement of position regarding the Ukrainian peacekeeping contingent in Donbas.
Comments
comments