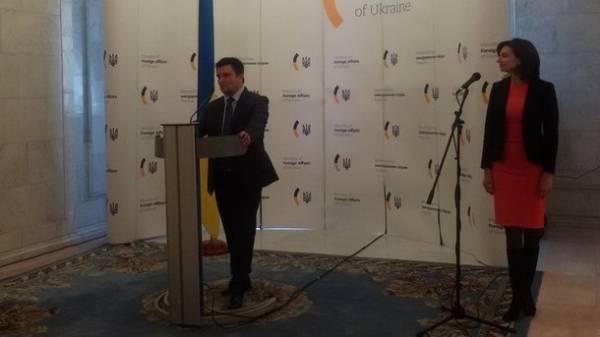 After the EU will provide Ukraine visa-free regime, Ukraine will be in TOP 40 countries in the index of openness. This was at the briefing said the foreign Minister of Ukraine Pavlo Klimkin.
"Now we have 52 countries with which a visa-free regime. After we get to the whole Schengen area to join the 26 countries of the European Union and 4 countries. Now we are negotiating with 27 countries on the visa-free regime. With 11 countries holding talks on the facilitation. This Asian region. Some we leave on a visa-free regime. For example, with Japan we are entering a new phase of facilitation. Have plans in the coming weeks and months to open negotiations. Thus, we have a chance in the very near future to open its borders more than 100 countries for Ukrainians. Even when we are doing arithmetic and calculated that we'll be among the first 40 countries in the index of openness, when we get the visa waiver with the European Union", – said the head of the Ukrainian foreign Ministry.
Pavlo Klimkin also thanked all those involved in the work on visa liberalization with the EU, commenting on yesterday's decision of the EU Council to grant Ukraine visa-free regime.
"Without falling into some sort of PR for the Ministry of foreign Affairs, I just want to thank everyone who was involved in this decision. Since it is a common achievement. I remember a lot of phases when it seemed that all of it will be extremely difficult. But, nevertheless, we implemented this unique project. I well remember how many people whined that us, EU will never work. It is a very clear manifestation of it is the solidarity of the European Union", – concluded the Minister.
We will remind, Council of the European Union on 11 may gave the nod to the liberalization of the visa regime between Ukraine and the EU. About 11 June the European countries incorporate a green light to the owners of the Ukrainian biometric passports for short trips.
Comments
comments