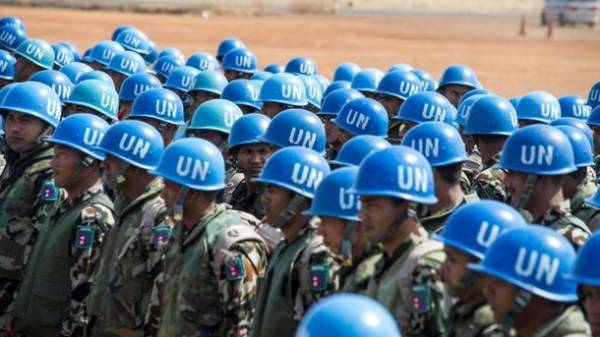 The introduction of the UN peacekeeping mission in the Donbass can give a reason for the cancellation or easing of sanctions against Russia. This opinion was expressed by the "observer" extraordinary and Plenipotentiary Ambassador of Ukraine, former representative of Ukraine to the Council of the United Nations human rights Vladimir Vasilenko.
The diplomat commented on the statement of foreign Minister of Germany Sigmar Gabriel, who spoke about the possibility of easing sanctions on Russia after the consent of the Russian Federation on the peacekeepers.
"In the context of the statement of the Minister of foreign Affairs of Germany Sigmar Gabriel on peacekeepers is obvious that some forces do not think about European values and their own benefit. They try as soon as possible to remove restrictions from Russia. The introduction of peacekeepers – a reason for easing or lifting of sanctions," – said Vasilenko.
SEE ALSO
Putin's statement on Monday in Germany are already talking about lifting sanctions
He noted that Moscow wants to change the status of the aggressor to peacemaker.
"Moscow's proposal is that Russia is a peacemaker, not the aggressor. This is absolutely contrary to the realities. This conflict can be resolved when Russia recognized as the aggressor, and its troops will be withdrawn from the territory of Ukraine", – concluded the Ambassador.
We will remind, yesterday the President of Russia Vladimir Putin said that he supports the presence of UN peacekeepers in the Donbass, and called a number of conditions which have already sharply criticized in Ukraine.
As was stated by the permanent representative of Ukraine to the United Nations Volodymyr Yelchenko, the UN peacekeeping mission in the case of the introduction in the Donbass should be located on the Russian-Ukrainian borderand the participation of representatives of Russia excluded.
It in the state Duma of the Russian Federation said his disagreement.
Comments
comments