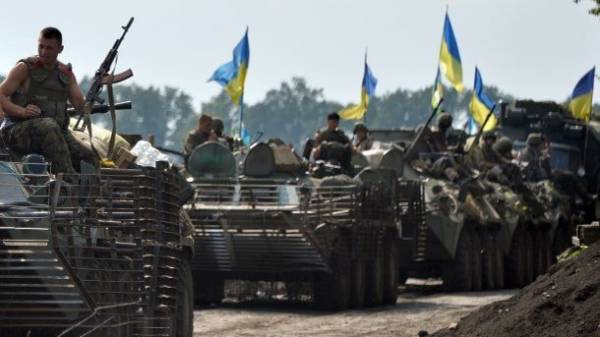 The President of Ukraine Petro Poroshenko told about achievements of the Ukrainian army and recalled that she was able to stop the spread of Russian aggression in the Donbas. He said this during a speech in Parliament with the message to deputies.
The President noted that political and diplomatic aid from the West is helping Ukraine to fight Russian aggression, but the real guarantor of the independence of Ukraine he called a APU.
"Now the line of differentiation on Donbass passes along the river Siverskiy Donets, and not on the Dnieper. It is the merit of the APU. The army resumed its combat readiness, it was re-created", – said Poroshenko.
SEE ALSO
A new form for the APU: what about it thinks Poroshenko
He recalled that in the summer of 2014 a large part of Donbass managed to return to Ukraine. According to him, only the direct intervention of the Russian Federation with modern equipment and personnel disrupted a quick end to the military operations of the APU, which at the time was quite real.
"We spent six waves of mobilization — I've received in the past year a difficult decision about the refusal of mobilization and the full transition to a contract army. In 2016, the service was made 60 thousand people. In the 17th, as of September 6, – 25 thousand", – said the head of state.
Recall "Ukroboronprom", has changed three years the Ukrainian army and how it has been upgraded and the enhanced.
Comments
comments