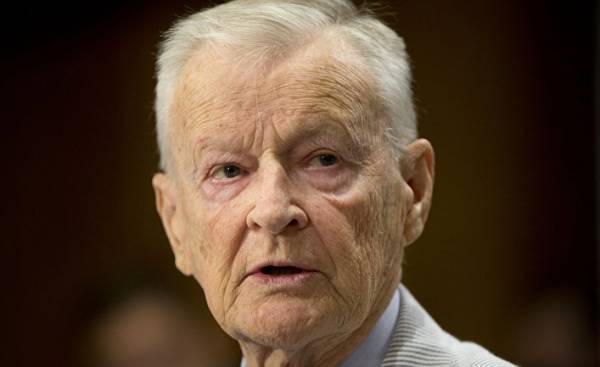 Zbigniew Brzezinski (Zbigniew Brzezinski), rebellious and visionary expert in the field of foreign policy, which helped Jimmy Carter become President in 1976 and then led him through a series of international crises that led to the defeat Carter in the election four years later, died on Friday evening, may 26. He was 89 years old.
"Tonight, my father peacefully passed away," tweeted his daughter, Mika Brzezinski (Mika Brzezinski).
This strategist of Polish origin became the target of harsh criticism in connection with those roles that it played in the crisis, with the seizure of American hostages in Iran, a large but inconclusive diplomatic confrontation with the Soviet Union and innovative, but clumsily implemented policy, Carter aimed at the protection of human rights.
Fans of Dr. Brzezinski's focus on his achievements, among which are the full normalization of relations with China, the expansion of the U.S. role in the middle East, which resulted in the conclusion of a peace Treaty between Israel and Egypt, and skilled policy, which has helped to preserve and strengthen the "Solidarity" movement in Poland.
Dr. Brzezinski, who became the author of over 30 books, which caused a heated debate, gradually withdrew from defending the ideas of military power and the need to show strength and determination with which he gained a reputation as an anti-Soviet hawk during his work as adviser on national security Affairs in the Carter administration.
Dr. Brzezinski, who at one time was a strong supporter of the escalation in Vietnam, gradually began to focus on the need to support nationalist aspirations in the developing countries by diplomatic and political means.
He opposed the invasion of Iraq in 2003. The undeclared border war between Russia and Ukraine in 2014 caused him to speak in warning that the West should not accept Ukraine into its military Alliance. In his opinion, this can result in much more serious and dangerous consequences in relations with Moscow.
However, Dr. Brzezinski felt that his views were more coherent and consistent than it might seem. "I have not had time in order to correct the distortions and to struggle with the wrong understanding of difficult concepts — he said during their interview in 2014. In any case, when I worked in the White house, it helped me to convince our ideas and positions of these hawks in the administration. I took a lot of criticism, which otherwise would have collapsed for the President."
Dr. Brzezinski, never retreating and never shied away from a fight of any kind, read the exciting lectures at Harvard and then at Columbia University. As they say in his fascinating memoirs, titled "Power and principle" (Power and Principle), published in 1983, they had always had a strong desire to subordinate leaders, and events to his will.
"Apparently, he doesn't understand how often his directness, focused on others, think anger, and how often his directness, aimed at himself, seem the shameless selfishness," wrote the journalist strobe Talbott (Strobe Talbott), who later became U.S. Deputy Secretary of state and President of the Brookings institution, in his review of the book "Power and principle", published in Time magazine.
Dr. Brzezinski also unsuccessfully tried to emerge from the shadows of another scientist of European descent who became a politician. In his article about his appointment to the post of adviser on national security the New York Times noted that Dr. Brzezinski "brilliantly prepared to take his new position in the White house, prepared in the same way that his predecessor, Henry Kissinger (Henry A. Kissinger), with which it will always be compared".
The two politicians loved to be the center of attention and to control the political process, while their predecessors had preferred to refrain from this. They both gained their reputation at Harvard, where they stated that the threat of limited use of nuclear weapons may be more effective political tool than the then prevailing doctrine of "massive retaliation".
Always ready to fight for its bureaucratic and ideological opponents, Dr. Brzezinski was making big bets on establishing warm personal relationships with those world leaders whom he respected.
"The world's greatest leaders with whom I had to deal with, was the leader of China, Deng Xiaoping (Deng Xiaoping) and Pope John Paul II," said he in 2014. He liaised with the then cardinal Karol Wojtyla (Karol Wojtyla) since 1976 and used his connection with the Pope to mobilize European opposition to minimize the risk of Soviet invasion of Poland in 1980.
Conflicts
Zbigniew Kazimierz Brzezinski was born in Warsaw on March 28, 1928. 10 years later, his father Tadeusz Brzezinski, a diplomat from an aristocratic Catholic family, was appointed Consul General of Poland in Montreal.
This temporary assignment turned into a long forced link to Brzezinski family, because Poland was invaded by Germany and the Soviet Union, divided it up, and then annexed to the Soviet Empire. As recalled by his parents, Zbig — so it was called throughout his life — very early became interested in the Russian culture and diplomacy.
Earning a master's degree in political science from McGill University in 1950, he enrolled at Harvard, where three years later received his doctorate. One of his mentors was Fainsod Merle (Merle Fainsod), a leading expert on political persecution in the Soviet Union.
Dr. Brzezinski taught at Harvard until 1959, when he moved to Columbia University. Very soon he became a tenured Professor and Director of the Institute on the issues of communism (Institute on Communist Affairs).
Once one student pointed out to him that he could not predict the care of Nikita Khrushchev from power in 1964. Brzezinski immediately retorted to him: "Listen, Khrushchev couldn't predict the resignation of Khrushchev, what do you want from me?"
In 1955 he married Emilie Benes (Emilie Benes), sculptor and grandniece of Eduard Benes (Eduard Benes), who was the President of Czechoslovakia. With his wife he had three children: Micah, Ian and mark Brzezinski.
Becoming a U.S. citizen in 1958, Dr. Brzezinski was an active member of the Council on foreign relations, the Bilderbergers, and later the Trilateral Commission, a group of leaders of American companies, academics and politicians who sought to strengthen international ties with the US through dialogue.
His books, articles in magazines and appearances on television helped him to take a leading position in the foreign policy circles of the Democratic party. In his book of 1965, he proposed "peaceful cooperation" with the Soviet Union — as he later explained, "the idea was to get closer to them, to deprive them of control" and made the phrase the keynote after the accession to the Council of policy planning at the state Department of the presidential administration of Lyndon Johnson.
The credibility of Dr. Brzezinski grew after Johnson used the phrase "peaceful cooperation" in his foreign policy speech, and Vice President Hubert Humphrey (Hubert H. Humphrey) made him a chief Advisor in his unsuccessful election campaign in 1968.
In 1973, Dr. Brzezinski drew Carter — the then little-known, but the ambitious Governor of Georgia in the Tripartite Council. Three years later, the work in this Council and the credibility Brzezinski in foreign policy circles have helped the Carter to victory over President Gerald Ford, whose adviser was Henry Kissinger.
The sharpness of Dr. Brzezinski and his rapidly uzhestochivhsiesya views on Soviet expansionism quickly provoked the conflict between him and Cyrus Vance (Cyrus R. Vance), lawyer and government official who was Secretary of state in the Carter administration, and supporters of Vance. Soon, the Washington press began to portray Carter as an indecisive leader who could not choose between Vance and Dr. Brzezinski. But Dr. Brzezinski insisted that, because Vance didn't know how to think strategically, they will never engage in personal squabbles on political issues.
Vance tried to achieve ratification of salt-2, which the U.S. signed with the Kremlin to limit the nuclear Arsenal of the latest. Dr. Brzezinski was opposed to the ratification, believing that, if conduct diplomatic negotiations with the Soviet Union in normal mode, it will be a promotion action of the Soviet Union in Africa and in other regions.
The Soviet invasion of Afghanistan in 1979 forced Carter to take a tough approach Dr. Brzezinski, inter alia, to refuse the participation of the United States in the Olympic games in Moscow in 1980. In addition, Carter did not hurry with the ratification of salt-2, although in practice both countries have already complied with the terms of this agreement.
As for Iran, Dr. Brzezinski called the Shah Mohammad Reza Pahlavi (Mohammad Reza Pahlavi) to throw all their forces to suppress the Islamic revolution. However, this uprising quickly deprived of the terminally ill Shah of his throne. Vance called for political liberalization to calm down the rebellion.
This was one of many examples of what Dr. Brzezinski retreated from the stated goal is to establish "priority of the moral dimension in foreign policy", much faster than Carter or Vance, who, apparently, belonged to this campaign promise is much more serious.
Vance resigned in April 1980, when Carter supported the use of military force — as urged by Dr. Brzezinski for the release of 52 American diplomats that the Iranian radicals took hostage in Tehran. The mission failed when one of the planes involved in the operation crashed, killing eight American soldiers, and the chances of Carter for re-election have dropped dramatically. Iranian radicals released the hostages on inauguration day Ronald Reagan.
Even the achievement of foreign policy, that Dr. Brzezinski was most proud of — the full restoration of diplomatic relations with China — has caused many disputes and disagreements due to the suspicions of some officials of the state Department that Dr. Brzezinski had intended to use this initiative in order to hurt the Soviet Union.
Although he played a secondary role in the negotiations at camp David, which was signed a peace Treaty between Israel and Egypt, Dr. Brzezinski and his aides have indeed made a significant contribution to the expansion of the U.S. role in the middle East because they developed the so-called Carter doctrine in response to the Iranian crisis and the Soviet invasion of Afghanistan. Carter said that the US will not allow any outside power to dominate the Gulf and control its oil reserves — when he first announced the active position of America in this region.
Criticism of Israeli policies, which for many years, Dr. Brzezinski advocated, brought upon him accusations of anti-Semitism, which he denied, pointing to the fact that his father helped Jews trying to escape from Nazi-occupied Europe during the Second world war.
After leaving the White house, Brzezinski continued to participate in public debates and became a consultant and member of the Board of the Center for strategic and international studies. He was a strong critic of President George W. Bush. In 2008, he supported the election of Barack Obama, but over time he began to point out the lack of Obama's "strategic purpose" and to accuse him of weakness in the negotiations with the Prime Minister of Israel Benjamin Netanyahu (Benjamin Netanyahu) on the issue of Israeli settlements.
In his interview, which he gave in 2013, political scientist Charles Gati (Charles Gati), he talked about how he once met with Mikhail Gorbachev. Former Soviet leader welcomed Dr Brzezinski, a staunch opponent of communism, shouting: "Zbig! Zbig!" They hugged each other. The next day in his speech, Gorbachev dismissed Dr. Brzezinski as an incorrigible supporter of the cold war.
To the question why he did this, Gorbachev, according to Dr. Brzezinski, said, "Zbig, Zbig, they paid us. They wanted us to argue". Gati to the question of whether they "paid so well", Dr. Brzezinski replied: "Not really, but apparently he thought we were also paying".
Comments
comments