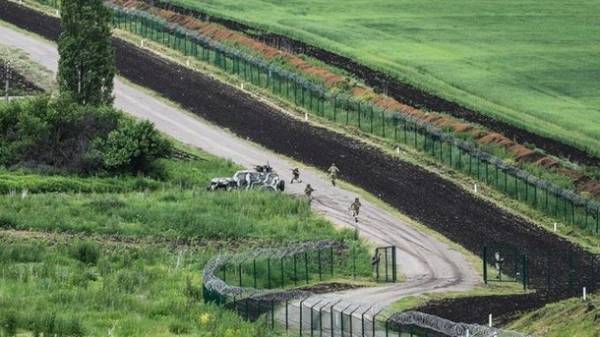 Military Prosecutor of the Central region of Ukraine sent to court the indictment against officials of the State border service. About it reports a press-Department service.
In particular, border guards suspected of obtaining illegal benefit by extortion.
"The Obolon district court of Kyiv will consider criminal proceedings on charges of servicemen of structural subdivisions of state border service of Ukraine in extortion at the businessman a "reward" for not preventing under the conditions of the contract for construction of the facility "Euroscene", – explained in Prosecutor's office.
The suspect is threatened by punishment in the form of deprivation of liberty for a term of five to ten years.
As you know, 19 November 2014, the Cabinet of Ministers Arseniy Yatsenyuk took the decision to approve the decree of the President about the designation of the line of the Ukrainian-Russian border. The project involved the construction of trenches, Robow, as well as special objects and changed several times.
July 13, it became known that the Prosecutor General's office is investigating the fact of embezzlement and appropriation of budgetary funds for the sum over 100 million UAH during the construction of the so-called project "the Wall".
According to information in the years 2016-2017, during the construction of the Ukrainian-Russian border with the help of diagrams the officials of the state tax service of Ukraine jointly with private entrepreneurs by acquisition in favor of the state on goods, works and services, carried out the embezzlement and misappropriation of budget funds in the amount of over UAH 100 million.
"As of now, the set of urgent investigative actions, the withdrawn material evidences confirming the involvement of officials of state tax service of Ukraine and the above-mentioned entities to implement illegal activity", – informs the General Prosecutor's office.
We will remind, the Solomensky district court of Kiev on August 10-11 chose a measure of restraint seven defendants in criminal proceedings on the fact of embezzlement of funds allocated for the resettlement of the Ukrainian-Russian state border(the project "the Wall"). It is reported by a Specialized anti-corruption Prosecutor's office (SAP).
Comments
comments