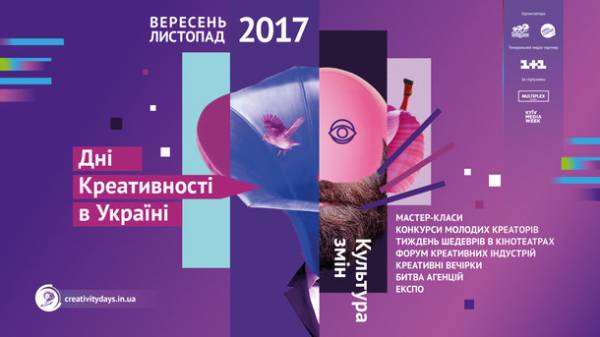 "The days of Creativity in Ukraine" will be with us during the whole autumn – from September 15 to 19 November and will be held under the slogan "Change Culture / Culture for change / Culture change."
We live in an era when the old decision making methods do not work.
Authoritarian management culture is ineffective.
Traditional approaches – not to sell.
50+ majors, taught in modern universities, are not in demand in the market, and 25+ in the coming years and all will cease to exist.
"The days of Creativity in Ukraine" – a platform for finding answers to the challenges that face us.
This is the most daring event for the real intellectuals. Cinema, show business, politics, civil society, technology, startups, business, public figures and celebrities – there will be addressed all topics where innovation and originality is the key to survival.
The purpose of the events that will take place this year in the framework of the "Days of Creativity" in Kiev and other Ukrainian cities to combine technology and creativity to demonstrate the endless possibilities of the creative industries, to inspire professionals, to motivate the young generation the desire to create and build, and most importantly – to give accelerate positive change in our society.
In the framework of the "Days of Creativity" this year will include the following activities:
– A series of educational master classes and workshops – in the best creative spaces in Kiev. The first event will be held on September 15 at the Creative Quarter, BC "Gulliver", Kiev.
"The week of the Masterpieces" – creative case studies and commercials – from 29 September to 6 October in the network of Multiplex cinemas throughout Ukraine.
– II-th Forum of creative industries, which will be held 18-19 November in Kiev at the NSC "Olympic".
– "Battle of the agencies" is the most transparent creative tender in the country – 18 November on the main stage of the forum in the NSC "Olympic".
– And also – hot parties and networking evenings in the secret places of the capital.
The event was organized by the official representative of the international festival of creativity Cannes Lions and Reklamaster.com. With the support of the industry forum Kyїv Media Week network of Multiplex cinemas. General media-partner of 1+1 Media.
Comments
comments