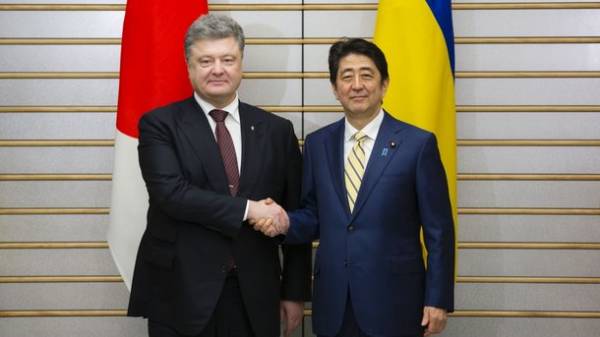 Japan March 2014 in the framework of different projects have provided Ukraine with 1.86 billion dollars. This is stated in the materials of the Embassy of Japan in Ukraine, reports Espreso.
The largest part of the funds is a loan in the amount of $ 1.1 billion on the project of modernization of Bortnychi aeration station. The project began in June of 2015.
In July of 2014 and December of 2015, received the tranches a total of $ 400 million to support the state budget.
In addition, was provided grant assistance for various projects, in particular for the purchase of medical equipment rehabilitation of infrastructure of the Eastern regions, support to internally displaced persons, and National police.
The total amount of assistance by the Japanese side since the establishment of diplomatic relations amounted to 3.1 billion dollars.
Among the largest projects – loans for construction of terminal "D" airport "Borispol", the provision of medical equipment of the hospital "OKHMATDYT" and assistance to the victims of the accident at the Chernobyl nuclear power plant.
It is very important to help in the field of "green investment". So, there have been more than 1.5 thousand hybrid cars for the National police, carried out teplomerezhi more than 370 schools and hospitals, as well as upgraded 135 cars of the Kiev metro, using energy-saving technologies.
Earlier it was reported that Ukraine risks not to receive 600 million euros from the European Union.
Comments
comments