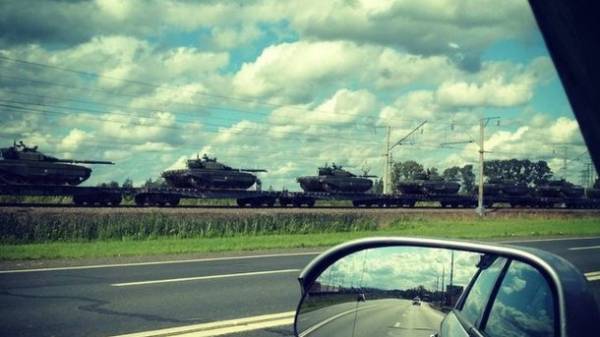 Russian-Belarusian joint military exercises may end the attempt to break through the soldiers without insignia into the side of the Kaliningrad region.
This was stated by the representative of the General staff of the Armed Forces Colonel Vladislav Voloshin, reports Еспресо.TV .
"There is Suvalki corridor of Belarus and the Russian Kaliningrad oblast divides. This is quite a small distance, it is Poland and Lithuania. And spend in this corridor such an operation with "itemname" is quite simple. As the events in Crimea and the Donbass", – said Voloshin.
SEE ALSO
Exercises "West-2017": new "state" in Belarus made noise in the network
Another danger of these exercises, he called the danger that a certain part of the Russian military contingent may remain in Belarus.
"Russia said that it has introduced in Belarus 3 thousand. At the same time, how much she actually introduced, no one knows, she can bring 3 thousand. 3 entered, 3-led… And how much real she could leave? Therefore, we do not exclude this possibility (that the part of the Russians, who will take part in the exercises, will leave in Belarus – ed.)", – said the representative of the General staff.
He reminded Vladimir Putin's words "they are not there". "There is also "no". They can also hide them in Belarus and saying, "This is not our war," – said Voloshin.
SEE ALSO
Turchinov about the exercises "West-2017": Russia wants to show its ability to wage large-scale war in Europe
"West-2017" joint doctrine of the Armed forces of Russia and Belarus, scheduled for the period from 14 to 20 September this year. According to official data of the Russian Federation, the exercise will be attended by up to 13 thousand troops, according to Western analysts, up to 100 thousand.
The Ukrainian military leadership has repeatedly stressed that the upcoming exercises can serve as a cover for more aggressive actions from the Russian side.
Exercises "West-2013" allowed Russia to prepare for the annexation of Crimea, and "West-2009" – resulted in the testing of a nuclear strike on Warsaw.
The Kremlin insists that the scripts that are reproduced in these exercises are purely defensive. NATO, in turn, in anticipation of the exercise actively increasing its military presence in the Baltic region.
Comments
comments