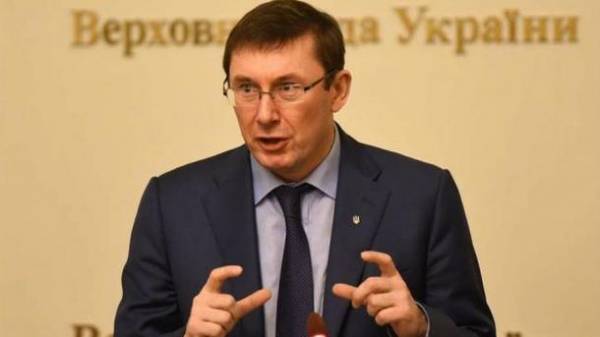 The Prosecutor General of Ukraine Yuriy Lutsenko said that the case about the shooting in the village of Brovary district, knyazhychi, which from gunshot wounds died, 5 police officers, in addition to the previously awarded 3 police officials of suspicion in addition, prepared a presentation of eight.
"It is planned the presentation of the another 8 suspicion", – he wrote on his page in Facebook on Thursday evening.
Lutsenko recalled that on 30 August the staff of the Prosecutor General was notified about suspicion in Commission of certain criminal offences, and three officials of the National police, which organized and provided the use of 4 Dec 2016 firearms in the village knyazhichi. At the same time in a press-service of the Ministry reported that prepared a petition for election to the three suspects of a measure of restraint in form of detention. Thursday, 31 August, the court began to elect him a measure of restraint.
SEE ALSO
In the case of the shooting of law enforcement in the City under the suspicion turned out to be three police officers
"Into the killing of 5 employees of the interior Ministry in the village knyazhichi, abuse of power and negligence of employees of the National police declared suspects the former chief of the criminal investigation Department of Kiev smoke, former Deputy chief of the criminal investigation Department of regional Department Marinovsky, a senior inspector of the cord Kurti", wrote the attorney General.
We will remind, in the village knyazhichi, Kiev region on December 4 in a shootout between police protection and special forces soldiers KORD killed 5 police officers.
SEE ALSO
The Prosecutor General's office declared suspicion to the three participants of the shooting in Knyazhychi
The official version of the tragedy as follows: held a special operation on detention of a gang of robbers in an unfinished house in the City, the alarm went off. The call came police guard, detained scouts who plan the operation wasn't supposed to expose himself. To rescue the scouts came CORD. The shooting started. In the end, killed two intelligence officers, two police officers guard and one soldier of the Cord.
Before Lutsenko declared that the immediate supervisor of the police operation in knyazhichi, Kiev region (Kyiv region), which killed law enforcement officers are accused of serious crimes that do not involve probation. "The key question, which was the signal for firing. Examination has established that the first shot one of the police guard of the Kiev region, which was behind a stone fence and fired it up. There are different versions, or he heard drove up CORD, and he made it known, or afraid psychologically, but this shot was the trigger for further peresekli", – he said.
Comments
comments