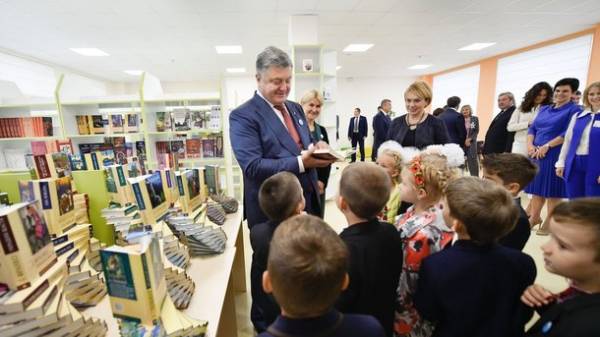 Today, President Petro Poroshenko took part in the opening of the school in Pisochyn, Kharkov region. On Twitter reported the press Secretary of the President Svyatoslav Tsigalko.
The school President talked with the first graders, one of whom complimented Petro Poroshenko, saying that he looks better in person than on the TV screen, said Tsigalko.
"I saw you on TV. How are you? – Better now", – Tsegolko dialogue of the baby with the President.
The dialogue skol.
Persocom: I know on TV.
The President: I Yak Tobi?
Persacom: at a time better. pic.twitter.com/H3XqtDHMja
— Svyatoslav Tsegolko (@STsegolko) 1 September 2017
SEE ALSO
By September 1: what was the school of Ukrainian VIPs
During the inauguration Petro Poroshenko announced that it is fit for inclusive education, and expressed hope that the Verkhovna Rada adopts the law on education.
Vakrita have Pacin on Harkin school przystosowana for inclusive osti. – P pic.twitter.com/DdEELMBAY9
— Svyatoslav Tsegolko (@STsegolko) 1 September 2017
Spodvigla scho BP hvaliti the law about higher education. – P
— Svyatoslav Tsegolko (@STsegolko) 1 September 2017
As reported, Petro Poroshenko September 1, will visit Kharkiv on a working visit.
It is planned that Poroshenko will take part in the celebration of the knowledge Day at the new school in the village of pesochin in Kharkov – the first in fifteen years, built from scratch.
After that, the President together with the head of the Kharkiv regional state administration will open the largest in Ukraine on the size and quantity of the services Center providing administrative services, built on best Georgian samples.
The President also will visit the updated perinatal center medikit 602 th district.
Comments
comments