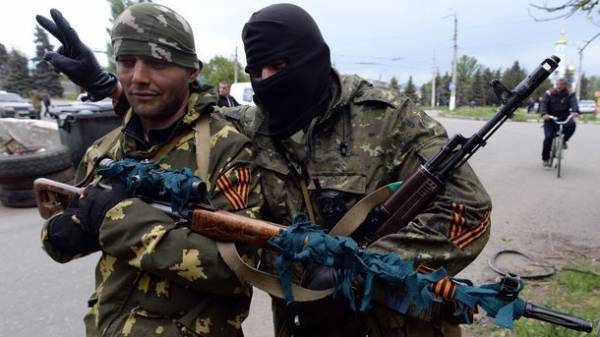 In the conflict in the Donbass, in addition to the regular Russian troops and local militants involved private Russian company, send to the East Ukraine in their mercenaries. A report published by the international intelligence community InformNapalm, said at a press conference, Deputy Minister of information policy of Ukraine Dmytro Zolotukhin, reports "Interfax-Ukraine".
"For example, in the Russian edition of "Fontanka" has been articles about the participation of mercenaries from private military companies in military operations on the territory of Ukraine and Syria. The losses of these companies are not considered as losses the military force that is semi-official in the country. The loss of these companies is cannon fodder, people who because of lack of money going to earn money by participating in the fighting," – said Zolotukhin, explaining that data collected by volunteers from open sources.
SEE ALSO
Russians in the Donbas: there are infographics with the number of military personnel and mercenaries
According to him, all the information collected will be forwarded to the SBU and the Ministry of justice, which collect evidence of Russian aggression against Ukraine to international courts.
The report says the most famous in Russia so-called "private company Wagner." Her mercenaries took part in the annexation of the Crimea.
"It is a closed paramilitary structure, the training camp which is located in the village of Molkino in Krasnodar region, at the site of the 10th brigade of special purpose GRU of the Russian Federation. With high probability we can assume that it implements a mechanism for the creation of voluntary units of reservists GRU. Edition WSJ calls the Creator "PMC Wagner", approximate to Putin, businessman Eugene Prigogine. Headed "PMC Wagner" Colonel Pskov brigade of special troops GRU of the defense Ministry of Russia Dmitry Utkin. In October 2015 a group of Wagner wrote "Fontanka" with reference to anonymous sources, the publication reported that mercenaries from ex – "Slavic corps" saw in the Donbass as a separate unit. About the participation of "the Wagner group" in the fighting on the side of terrorist organizations "DNR" and "LNR" at the end of 2015, wrote The Wall Street Journal," out of volunteers.
SEE ALSO
Putin confirmed the presence at a reception in the Kremlin mercenary "Wagner"
According to the report, the mercenaries of the private military company received combat medals, award documents, signed by Russian President Vladimir Putin. In total, the report presents the results of volunteer studies of 10 Russian military companies.
As reported in December 2016, at a reception in the Kremlin noticed by Dmitry Utkin, known under the Callsign "Wagner" – commander of the Russian mercenaries fighting in the Donbas.
Comments
comments