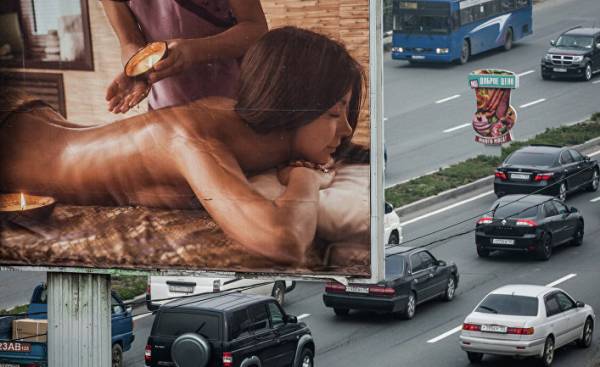 Pictures of naked women is still a common phenomenon in many parts of the former Soviet Union. They can be used as decoration anywhere — in the homes of seniors in the dining halls of hotels, in gyms.
One day I was interviewing a Ukrainian pensioner in her living room in Krivoy Rog. In the place of honor above the sofa she hung a picture of a Nude couple engaged in passionate petting in the jungle.
A poster with the story, as if gleaned from the erotic "Dirty dancing" was enclosed in a Golden frame and hung in a frame of climbing plants. I think she thought the picture very beautiful.
A few months later I went to Odessa. In the hall of the hotel where Breakfast was served, the whole wall was covered with black-and-white images representing women with bare Breasts in port uncertain environment.
And I remember a fancy hotel room Tikhoretsk in southern Russia. It was lavishly decorated with paintings of women's Breasts and Asses.
In my fitness club in Moscow interior the hall aerobics supplemented by several huge photographs of naked models. Their bodies painted with stripes like a Zebra, and wear on them nothing but high heels. They sit on the balls for Pilates, legs wide apart. Seeing them for the first time, I burst out laughing. So, this gym offers to train completely naked, in high heels and adorning himself with the Zebra stripes.
Pornostatic of this kind constantly come across in most of the former Soviet Union. All Nude women one and the same expression was sour as a lemon, and Horny. I often wondered why a lot of owners of hotels and fitness clubs in that part of the world where I wear the watch seems to perceive this image as an absolute ideal. In addition, there is still the question of why naked models with spaced legs adorn the walls of halls for aerobics, train almost exclusively girls.
Background of pornostatic clear. Porn was forbidden in Soviet times and after the collapse of communism it was considered a symbol of freedom. But this may not be an exhaustive explanation, so as soon as thirty years, as the Union disintegrated.
Many women, for example, in Moscow, is no longer dressed as in the 1990-ies. Of course, short skirts and high heels — still a common phenomenon, but also often with jeans and sneakers. Tastes are becoming more diverse, although for many women, clothing suitable for the Russian ideas about femininity, is still a matter of honor. And yet now, in the streets much less high boots and fishnet tights.
The feeling that many owners of hotels and gyms are simply behind time.
Comments
comments