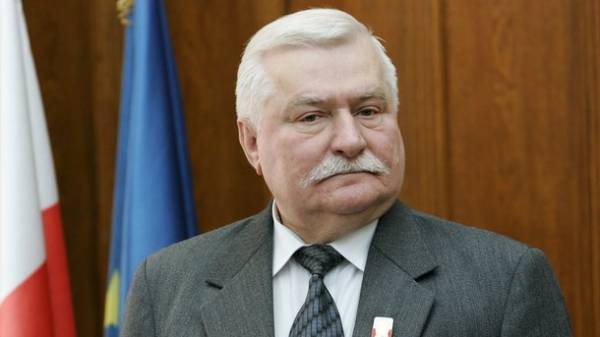 The President of Poland in 1990-1995 in interview "Today" told about how Poland managed to get rid of the yoke of the Soviet Union, why NATO does not want to take Ukraine, and how Ukraine and Poland should treat the historical mistakes of the past.
Mr. Walesa, Poland and Ukraine have a common socialist past. Everyone remembers what was Poland in the 1990s after the collapse of the Communist camp: inflation, shortages, uncertainty. Then Ukraine and the Ukrainians drove the sale of everything from writing pens to almost the engines for missile systems. The time has passed. Where now Poland, and Ukraine where…
— No one believed that communism would collapse so quickly. We are here, in the inner countries, was not ready, but the West too was not ready. Therefore, a living organism improvise. Somehow we have come. Ukraine was in an even worse position, because he was very dependent on Russia. And chopping off all of this lot cost. The worst situation was for those who were the most cooperated, those who are most connected to, the situation was deplorable. Therefore, Ukraine has more issues than we in Poland.
In 2004 Poland became a member of the European Union. In Ukraine in 2004 there was the first Maidan. It seemed that he chance. But it was not used. Over the years, the EU and Ukraine ratified the Association agreement that is still not full membership. Now in the East of Ukraine — war, part of the territory annexed by Russia. The EU said: "Friends, for membership too early." What do you think?
— There are two philosophies. Some say: "Try to align what is possible, and only then join." And in the end to play the hymns. Others say, "No! Open! Who will survive, he will live." Which one is better? I can say that Poland was a little further away are less dependent on Russia, it can be used to join the EU, as in the first concept. Ukraine is a big country. And strongly dependent on Russia. So it is more difficult. Europe is not able to absorb such a country.
When I was the President of Poland, I worked as much as for Ukraine and for Poland. In Canada, in Brazil, talked with different your countrymen, prepared them to engage together in the European Union. But I lost the election. Those who came to power, acted differently, and the process stalled. But we had to join the EU together. Ukraine and even Belarus. But Belarus is still a difficult situation, it is even more dependent on Russia. My grandfather taught me, then my father that there is no free Poland without a free Ukraine. I have it in blood, in education. So I did everything to ensure that all went together (in the European Union. — Ed.). But, unfortunately, failed.
— Last year during the NATO Summit in Warsaw, the issue of Ukraine was allocated a separate discussion. Despite support from the Alliance Ukraine on the issue of membership in the unit answered, "Not today." But Ukraine is, in fact, a stop the spread of aggression is unpredictable Northern neighbor. How adequate are now using the NATO Ukraine?
— You obviously don't. If my thought about our joint entry into the EU was implemented, then, of course, Russia would now be disorganized. But I failed, and the West as something not very suited to the subject. But everything is difficult — Russia is doing everything not to let Ukraine. Therefore, it is very risky (Ukraine's membership in NATO. — Ed.). Although, if Europe now had more men it would be accepted. Alas, there is not yet ready for such men's decisions. But if it depended on me, I would do everything to Ukraine was a NATO member.
SEE ALSO
Groysman: Ukraine can become a startup nation
— At the time Ukraine refused from the status of a nuclear state in return for the security and integrity of its territory. What has not been done. What is the meaning of this arrangement?
— I'm probably the only one who has claims to those who have signed the agreement, including Poland, and the United States and other countries. We have given assurances to Ukraine. But, it turns out, we have betrayed the Ukraine! So is the world: one said, another done. Now we must do everything in order to fix this error. And to do everything as quickly as possible to integrate Ukraine into Europe.
— In an interview with Polish newspaper you encouraged Poland to arm themselves with nuclear weapons. Do you really think that's possible at this point?
— The world has so many weapons that you can eleven times the Earth to destroy. Why do we continue to arm themselves, if the twelfth time might not be? But since there are so many weapons placed in different places, and there is a threat, then let's move this "book" here to be less threats. Don't want to buy, don't want to build weapons, only want to see Russia and other countries, then the jokes will end. If you die, you die all. And Russia, too. But this is only in the concept of defense, not attack. So this weapon really we defended, made it impossible to attack Ukraine and other countries.
— Recently, the EU has liberalized visa regime with Ukraine. It is no secret that decisions in the EU, and in particular in Poland, worked for many Ukrainians. And after the introduction of bezveza the number of Ukrainians in Poland has increased. In fact, Ukrainians are involved in the improvement of the Polish economy, increase the GDP and investment attractiveness of Poland. Against this background, alarming the anti-Ukrainian rhetoric in Poland…
— That's the past. We made a lot of mistakes, and they now dominate the us. Remember our grandparents. It is difficult for us to break away from this bad past. Must pass years to understand: the better you work, the better for us. But if fighting someone on the us earns. I came to the conclusion: that we (Ukraine and Poland. — Ed.) doomed to each other, and we must do everything so that the process was pleasant.
On 24 August Ukraine celebrated the Independence Day. What would you wish to ordinary Ukrainians, and the powers that be?
— That we all used the chance — he is always there. So we hit it off. And I wish Ukrainians get along both inside the country and with its neighbours.
Help. Lech Walesa was born in a family of carpenters. He graduated from a vocational school. From 1961 to 1965 he worked as a mechanic in July 1967 he worked as an electrician at the Gdansk shipyard. In 1980 he created the first in Eastern Europe free, non-state trade Union "Solidarity". In 1983 he was awarded in absentia the Nobel peace prize for the creation of Solidarity and the struggle for human rights. For years married. He and his wife Danuta eight children — four sons and four daughters.
Comments
comments