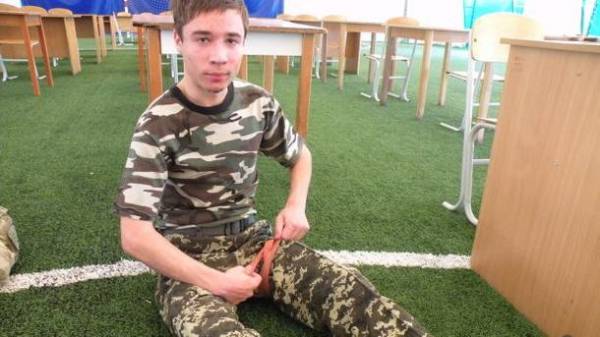 From the territory of Belarus under mysterious circumstances disappeared 19-year-old Ukrainian Pavel Mushroom. This was reported by his father Ivan Mushroom on his page in Facebook.
"August 24, my son Paul (19 years old) went to the city of Gomel to a meeting with the girl, whom he met and communicated only on social networks, without a personal acquaintance, first on VK (Vkontakte – ed.) and then to Skype, which, according to him, should come to a meeting of the Russian Federation. Under the arrangement, Paul should have been back in the day. When the next day he never came back, I went to Gomel to search for him", – stated in the letter of the Fungus.
SEE ALSO
Detained in Belarus, a political opponent of Lukashenko
According to him, he found out that Paul is wanted according to article 205 of the criminal code (terrorist act), the initiator is the FSB of the Russian Federation for the Krasnodar Krai city of Sochi.
"In the Gomel border group (the equivalent of our border detachment) referred to the duty to report, where my son is, as in accordance with the instructions of the border guards upon detection in the crossing for persons in respect of whom wanted by the police, carried out their detention and subsequent transfer office, which initiated the search. I was asked personal information against Paul, and promised to investigate. And an hour and a half I was told that no information about his son, the guards don't have that is a blatant lie! So it became clear that the FSB lured Paul in Gomel under the guise of meeting with the girl and held the detention," – said the Mushroom.
SEE ALSO
In Belarus detained the militants with the trappings of "Azov" and UNA-UNSO
He said that his son actively and sharply discussed Russian aggression against Ukraine in social networks, which could serve as a pretext for his detention. Mushroom said that Paul was not involved in the fighting in the Donbass.
In turn the assistant to the head of the state border service of Ukraine Oleg Slobodyan wrote in Facebook that the Ukrainian service checks this information.
"It seems that our colleagues-frontier guards Fsbeshniki lured over the border into Belarus, the son, and there, in strange circumstances, detained. Now check this information at the service line," added the guard.
We will remind, at the end of March this year in Minsk for participation in mass protest actions detained six Ukrainians.
Comments
comments