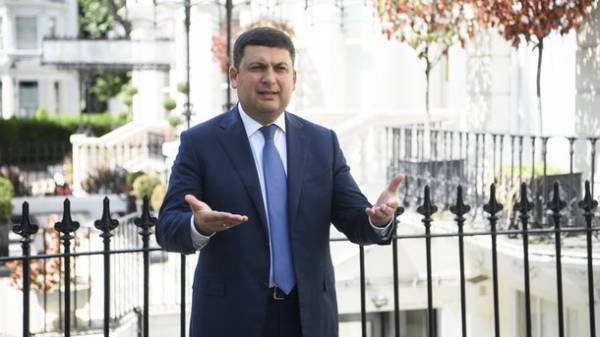 Prime Minister of Ukraine Volodymyr Groysman believes the increase in prices for liquefied gas for cars in Ukraine conspiracy and sabotage against the country. About it reports a press-service of the government.
"I want the service on whom it depends, put things in order in the market of car gas. A sharp rise in the price of LPG has all the hallmarks of collusion. The market reeling. It's a diversion against Ukraine. We need to protect domestic consumers – ordinary citizens", – he said.
Also Groysman instructed relevant ministries, the Antimonopoly Committee of Ukraine (AMCU), the State fiscal service (SFS) and law enforcement agencies to deal with the increase in the price of the petrol.
The Prime Minister noted that the situation in the LPG market should stabilize in a few weeks to 15 September, the price of gas has changed.
"And separately, the SFS and the police – to perform carefully all market participants, especially traders. Also charge at the level of Vice-Prime Ministers this week to hold a meeting and make a comprehensive proposal to resolve the situation," – said Groisman.
The government also stressed that, despite the rapid growth of the market, there is a lack of infrastructure for creation of fuel reserves. Also during the year significantly reduced the number of traders who supply liquefied gas from Russia, and the demand for fuel soared.
SEE ALSO
Ukrainian drivers have started to refuse to autogas
"This is a consequence of monopoly. I demand from AMCU to more decisive action, and ask for all the information – how many were traders, who today works in the market, what are the sources of fuel supply – and this is exactly what you will put on the table the President of Ukraine. And now you must reach a clear agreement with participants – they must take measures to minimize the prices in the coming weeks," – said Groisman.
The Prime Minister also instructed to identify the perpetrators of the situation, to take measures to overcome monopolization, to diversify fuel supplies and to punish the perpetrators of the abuse.
We will remind, liquefied gas for cars continues to break price records: over the weekend it went up another 1.5-2 UAH/l, exceeding at some gas stations the figure is 17 UAH/liter. That's almost 50% higher than it was a month ago. Many gas stations gas does not. But the experts of the fuel market calm: in mid-September, gas prices have to go down.
Comments
comments