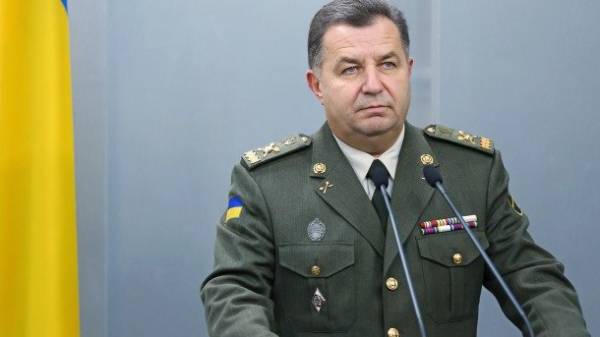 Defense Minister Stepan Poltorak, one of the main points in the reform of the army sees thought-out personnel policy. He told about it in interview to the newspaper "people's army".
According to him, it is impossible to completely and immediately to avoid deficiencies in the work of the Ministry of defense and Armed forces in General, but the thing that flaws are identified and eliminated.
SEE ALSO
Large-scale exercises "West-2017": Poltorak assessed the threat to Ukraine
He noted five main challenges for the Ministry of defense.
The implementation of a sound personnel policy. This has increased the salaries of military personnel, especially those who perform tasks in a combat zone in the Donbass. Also the decision to increase funding for housing. Directed additional funding to improve the system of selection and training NCO.
Ensuring a balanced approach in the use of financial and material resources. In this context, the adoption of a joint decision to merge the multinational joint coordinating Committee on military cooperation and defense reform with the reform Committee. In addition, the Center will be established change management professional monitoring and evaluation the success of the reform.
The main efforts are now focused on Ukraine's accession to NATO. Ukraine feels great support from the member countries of the Alliance.
The APU providing the necessary weapons, military and special equipment. The state leadership has decided and has provided 1.4 billion USD for the construction of a munitions factory. Also given the resources necessary for establishing serial production of the tank "Oplot", a missile complex "Beech" air defense, electronic warfare, and the like.
We need to continue to develop and improve defence infrastructure. Therefore, according to the perspective plan, each team will be built dormitories for contract servicemen. In addition, the continued improvement of training centers, ranges and other military facilities.
Here it is important to say that in relation to all indicators – the number of exercises with live firing, flight crews of aircraft, training of crews – the results achieved, which previously only dreamed of. There is an obvious qualitative changes. According to NATO standards and with the participation of trainers of the Alliance are schooled 28 full-fledged combat units.
Recall, August 24 Stepan Poltorak met in Kiev with U.S. Secretary of defense James Mattis. What did the Minister of defense can be read here.
Comments
comments