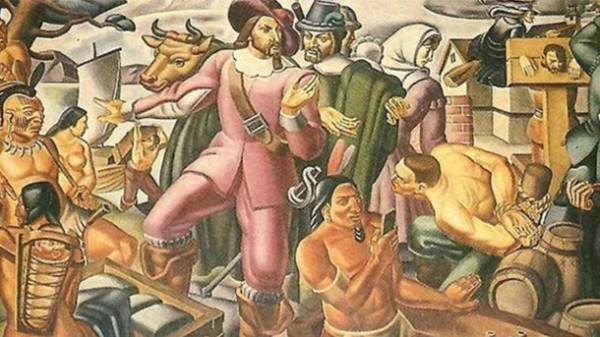 In the fresco, "Mr. Pynchon and the settlement of Springfield" in 1937 by the Italian artist Umberto Romano found smartphone. This writes the "Ribbon" with reference to the Motherboard.
We are talking about the Indian on the right side of the picture. He holds in his hands a rectangular object resembling the iPhone. What really portrayed the painter is unknown. Among the options — a mirror, a blade and a prayer book.
Picture also published in Facebook Michael Todd Myers. "This guy writes on Twitter?" he asked. According to one commentator, in the hands of the hero — Samsung Galaxy S0.
"Probably an Indian has just arrived from the future in this temporal capsule with a supply of beer and foolishly trying to catch the grid", "20 Years ago to anybody and in a head has not come that it's not a mirror," write also the commentators.
The plot of paintings — the real events of the war between native tribes and English settlers in America, occurred in the XVII century, in the pre-revolutionary period. The mural is currently in the Public building of the Commonwealth of Massachusetts.
We will remind, not so long ago physics said about the possibility of creating time machine.
Comments
comments