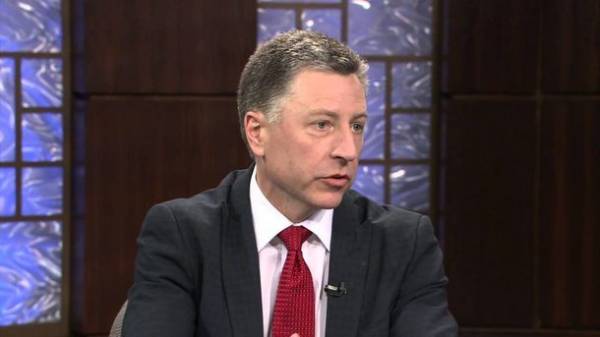 Ukraine cannot defend its territorial integrity because of the presence of Russian troops in Donbass, and the talks in Minsk did not resolve the issue. About it in interview to TV channel "Rain" said the special representative, U.S. Department of State Kurt Volker, reports Gordon.
"At the moment, the Minsk process will not solve the problem. Of course, it is necessary and very important. In the end we will be able to use it. But now we need to increase the level of security and to ensure that Ukraine conditions so that it could defend its territory. Now she can't do that," he said.
SEE ALSO
Walker said, as agreed with Surkov
According to Volcker, the majority of violations of the ceasefire regime in the Donbas caused by the Russian military.
"We need to clearly understand that in the Donbas are Russian troops in the Donetsk and Lugansk regions. There are military vehicles and equipment. The problem is that the presence of military equipment creates conflict. According to the official reports of the OSCE, most of the violations of the cease-fire coming from the Russian side. Not all, but most. The interest of Russia destabilizie the situation", – said the special representative.
He appreciated the initiative of the leaders of "Norman Quartet" on a ceasefire in the Donbass, calling the truce "the first step towards ending the conflict." The following should be the withdrawal of Russian troops, said Walker.
SEE ALSO
Walker in Lithuania called the first step to resolve the conflict in the Donbas
"Russia recognizes that, according to the Minsk arrangements, these territories should be returned to Ukraine, they should again be part of Ukraine and not to be occupied territory. In order for that to happen, you need to withdraw Russian troops and to keep people safe, so they feel confident. If now they feel vulnerable, this is something we have to work," said the American diplomat.
His meeting with Russian presidential aide Vladislav Surkov, Walker called a "serious and Frank conversation."
"We came to a consensus that the status quo will not bring anything good to anyone. This is bad both for Russia and for Ukraine, and for the residents of Donbas. We need to find a way out of this situation. It becomes a tragedy for people. Killed 10 000 people, millions of people were forced to leave their homes, young Russian soldiers died in the war in Ukraine. This is completely unacceptable. We have agreed that we will find a way out of this situation", – said the representative of the state Department.
We will remind, on August 21 in Minsk Walker met with Surkov to discuss the resolution of the conflict in the Donbas.
Comments
comments