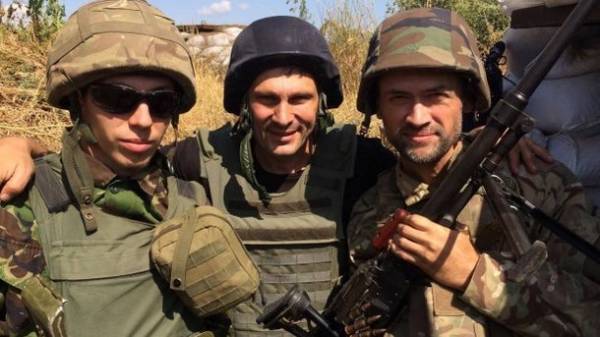 Famous Russian actor Anatoly Pashinin said that in the Donbass visited different units of the Armed forces of Ukraine. He told about it in interview to the edition "GORDON".
According to him, he began to wander to war, because I was worried about his older brother Constantine, who served there.
"He fought in one of the hot spots – the position of "Zenit" near the Donetsk airport. Brother is a hero. I may not like this, but as said Munchausen, something heroic in me. Want a decent Ukrainians calmly look you in the eyes and say "I'm with you there," and not throw in face "I did not send you there" as some in the rear. I visited in 79-m, 128 m, 131st battalions, went to the Sands (before they passed), Avdiyivka and a lot of points, which have already and remember I can't. Rode along the front from sector "A" and "D" to sector "M". And even received an award from the commander of sector "M", – said Pashinin.
SEE ALSO
Famous Russian actor: I cursed Putin for several years before Maidan
He told the story, as produced epaulet Ukrainian General.
"They say in the Russian army was such a case during the Swiss campaign of Suvorov in 1799, when the soldier managed to rip the straps Marshal of the French Empire andré masséna. Suvorov gave him the rank of officer and demanded the award of the title of nobility. Many were outraged, and Suvorov, in response, promised to make General of any who would bring him a second epaulet Massena. So, I got the shoulder straps from the Ukrainian Massena – the head of the operational command "South" Lieutenant-General Anatoly Sirotenko. We stood with him, and I said, "I Want your shoulder straps. None of the Russian can not even dream with you to do it." And he made me a gift. It is a great honor. You can wear a whole bunch of medals and I will wear the shoulder straps as a great warrior. I have the most expensive trophy in this war. Heathens of the General staff of the Russian Federation is not even dream", – said the actor.
As it became known, Anatoly Pashinin fighting at the Donbass for the Ukrainian army as part of the eighth battalion of the Ukrainian Volunteer Army.
Comments
comments