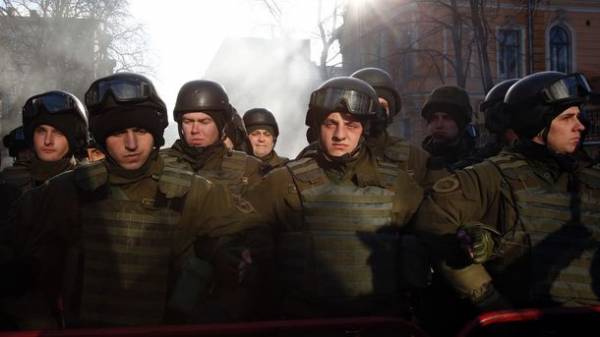 In the government quarter, where yesterday held the rally of supporters of the blockade of trade with the occupied territories in the Donbas today, February 20, the situation is calm.
As UKRINFORM reported, the order on Institutskaya street and adjacent streets are guarded by reinforced police and national guard.
Street Bank no sign of yesterday's stock blocker and the blocker is not, however, at the entrance to this street law enforcement officers are asking people to show documents.
The Institute along with laser projectors on the ground of the death of the Heavenly Hundred Heroes, lay flowers and lighted candles.
On Independence square people a little while, but people continue to bring flowers to the place of death of the Heavenly Hundred Heroes.
We will remind, in the evening of 19 February in Kiev on Institutskaya street clashes between protesters and police.
The police detained the leader of the OUN Kohanivsky and several protesters.
During clashes in the center of Kiev suffered at least 10 people.
Today the President of Ukraine Petro Poroshenko honored memory of Heroes of Heavenly one Hundred, remembering the Ukrainians who gave their lives for the freedom of their country.
"Today we honor the memory of the Heavenly Hundred Heroes – our brave compatriots sacrificed their lives for the freedom and independence of Ukraine, for the right of his people to become an equal member of the community of free Nations, democratic principles, guaranteeing to every person respect for his dignity and the opportunity to freely live and develop," he said.
Comments
comments