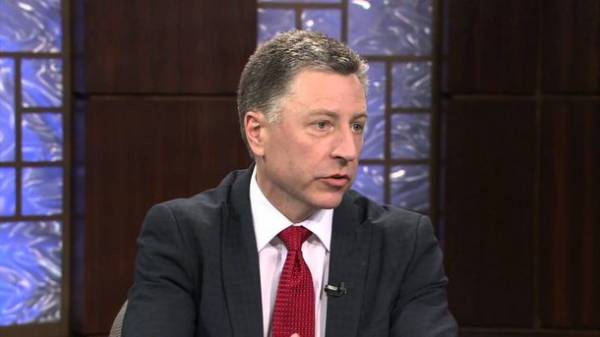 The special representative of the United States Ukraine Kurt Volker on the eve of visit to Kiev has expressed hope that the parties to the conflict in the Donbass will be able to negotiate a truce in connection with the start of the new academic year.
"There is one specific thing at a meeting with Mr. Surkov (assistant to the Russian President Vladimir Putin – Ed.) we didn't spend a lot of time, but I know she holds a very important place in the agenda of the Channel process. This is the truce in connection with the beginning of the season the new school year, so we can give the truce a new impetus. It seems that this is a very good idea, and we do fully support it, and I hope that the parties will be able to do it," said Walker in an interview with the Agency BNS in Lithuania, commenting on the results of meeting with Russian presidential aide Vladislav Surkov.
SEE ALSO
Klimkin and Walker will discuss the meeting with Surkov
He called "constructive" talks with Surkov. "I had the opportunity to hear about some of the prospects of Russia and to present some of our prospects," said Walker.
"The status quo (in the Donbas – Ed.) – it's not good for neither Russians nor Ukrainians, It is now simply a humanitarian tragedy. And we really need to try to change it, and I think we agreed to do everything they can in order to try to change that," added the American diplomat.
He said that during the meeting with Surkov discussed the negotiations on Ukrainian settlement in Minsk.
"The Minsk agreement is very important and want to implement them, but now we found ourselves at an impasse. We need to refresh the rating, how to increase security for residents of the Ukrainian people", – said Walker.
According to him, during the talks with Surkov, an agreement was reached on a new meeting – "a couple of weeks, maybe a month".
"We agreed to meet again to continue, and now I made it clear that we fully support the Normandy format and Minsk agreement," – said Walker.
He also said that the United States has not yet decided on arms supplies to Ukraine and that this issue is currently very actively discussed in Washington.
We will remind, on August 21 in Minsk Walker met with Surkov to discuss the resolution of the conflict in the Donbas.
Comments
comments