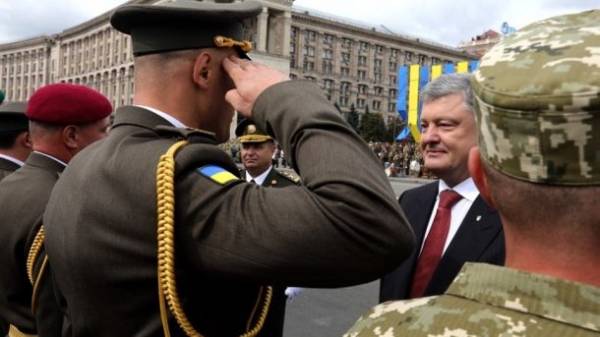 The President of Ukraine Petro Poroshenko believes that the Ukrainian army is ready to rebuff Russian aggressors. He stated this during the opening ceremony of the military parade in Kiev, the press service of the head of state.
He noted that the current Ukrainian army is in better shape than ever. The President stressed that talking about it in Europe.
"We find asymmetric and effective solutions to the long historical perspective, to restrain the army (of Russia – ed.) – the largest in Europe and third in the world. Ukraine is ready to give a tough military resistance to the aggressor in his attempt to go on the offensive. But we proceed from the priority of peaceful, diplomatic, political and legal path to return to the Donbass and Crimea", – said Poroshenko.
SEE ALSO
Poroshenko explained how Putin can stop war in Donbass
He also hopes that the enemy will not be able to use the political struggle in Ukraine for their own purposes.
"I'm sure that we have enough intelligence and energy to the political struggle inside the country to keep in the framework of the European standards of civilized relations between the authorities and the opposition that the enemy could not undermine us from within. To the "fifth column" and did not think to raise their heads. To the ataman did not destroy the foundations of statehood. Word to the political confrontation we ourselves are not destroyed. That adds optimism? Russian aggression has United us into a single political nation. Traditional Ukrainian farmstead with a house, then necessarily the earth, United in a common Patriotic family who defended their common home," added the President.
Yesterday the President said, in 1917-21 years of the last century, Russia took advantage of the disunity of the Ukrainian political elite were able to seize the Ukraine. The President hopes that modern Ukrainians do not repeat the mistakes of the past.
Comments
comments