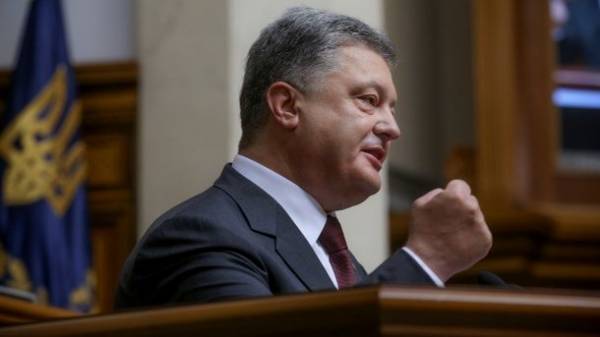 Address of the President of Ukraine Petro Poroshenko to the Verkhovna Rada may occur on the first working day of the new session of Parliament – 5th September. This was stated by speaker of the Parliament Andrei Parubiy, reports 112.ua.
He noted that it is not yet approved, but roughly the message of the President on 5 September.
"I haven't discussed with him this question, but, as you know, on the first day. I'm afraid to say unverified information. Tomorrow we obviously will discuss this issue. But, according to my preliminary information, this should be the first day of the meeting, on Tuesday, at the beginning of the session," – said paruby.
SEE ALSO
Vadym Rabinovich: the Coalition in Parliament – fiction
As for the work of the Verkhovna Rada, the speaker noted that the autumn will be marked by the reforms.
"We will have autumn reforms in General. My initiative will be in the fact that we were able to sit with all the heads of factions, including representatives of the Cabinet, and make a plan exploded, what will be the consideration of reforms. A key reform is the educational, medical, pension and judicial. Each of them is a very lengthy document, and it brings drastic changes in a particular reform. I personally would suggest to start with educational reforms because they believe that it may be the most unifying, she will join the hall at the beginning of the plenary", he added.
In may it was reported that Petro Poroshenko has formed a working group which within three months must prepare a draft of the annual message of the President to the Verkhovna Rada about domestic and external situation of Ukraine and approved its personnel.
Comments
comments