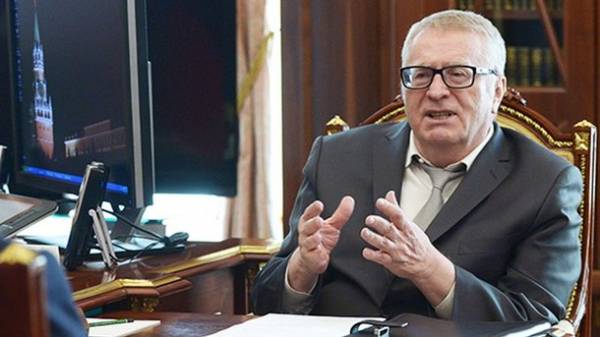 The Prosecutor General's office of Ukraine made the message on suspicion to the citizen of Russia, the head of the liberal democratic party of Russia Vladimir Zhirinovsky in the financing of terrorism. About it reports a press-service GPU.
"The pretrial investigation established that Vladimir Zhirinovsky in March-April 2014 "for the purpose of material support of terrorist organizations "LNR" and "DNR", created and led organized group, composed of separate deputies of the State Duma of the Russian Federation and members of the liberal democratic party of Russia including leaders and representatives of regional branches of the party, which with a corresponding goal to collect funds from citizens of Russia", – stated in the message.
SEE ALSO
The funeral of the whale: Zhirinovsky in the pool has become an Internet meme
As noted, for the account personally made to the property and funds, and also means collected from citizens of the Russian Federation, the specified group under the leadership of Zhirinovsky, acting, including, at the request of the head of the terrorist group "Somalia" Thick (call sign "Givi"), for 2014-2017 delivered to the representatives of these criminal groups 6 vehicles of Russian production with high inputs and operational capabilities, some of which was used during the Commission of terrorist acts against military and law enforcement units of Ukraine, in particular, on the territory of Donetsk airport.
"On these facts the criminal activities of an organized group, the General Prosecutor's office made a message to Vladimir Zhirinovsky on suspicion of committing a criminal offence under part 3 of article 27, part 3, article 258-5 (financing of terrorism) of the Criminal code of Ukraine which sanction prescribes punishment in the form of deprivation of liberty for a term up to 12 years with confiscation of property", – stated in the message.
As reported, Vladimir Zhirinovsky said that the territory of the unrecognized republics bordering Russia, to "pick up" and to join Russia.
Comments
comments