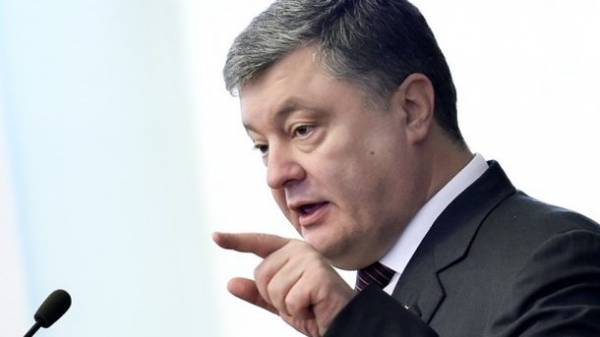 In 1917-21 years of the last century, Russia took advantage of the disunity of the Ukrainian political elite were able to seize the Ukraine. This was stated by the President Petro Poroshenko during the ceremony of raising the national flag on Sophia square, the press service of the head of state.
"In the 17-21 years of the last century, the Ukrainian political elite was unable to unite itself or the people to unite to resist Russian invasion. Moscow skillfully took advantage of our internal strife for many years and captured the Ukraine," said Poroshenko.
SEE ALSO
Poroshenko explained how Putin can stop war in Donbass
The President believes one of its main tasks is to combine and consolidate different political forces in Ukraine in the name of national interests.
"Unfortunately, because of either selfishness, or political blindness, not all politicians are able to see that in terms of external aggression in the internal struggle there are red lines that cross strictly prohibited. Because for them, the competition between the opposition and government become, even unconscious, aiding the aggressor, as a gift to the General staff of an enemy country", – stressed the head of state.
He urged to learn from the mistakes of the past so history does not repeat itself.
As reported today, Poroshenko said that the national flag of Ukraine will develop in the Ukrainian territories that are now occupied by Russia.
Comments
comments