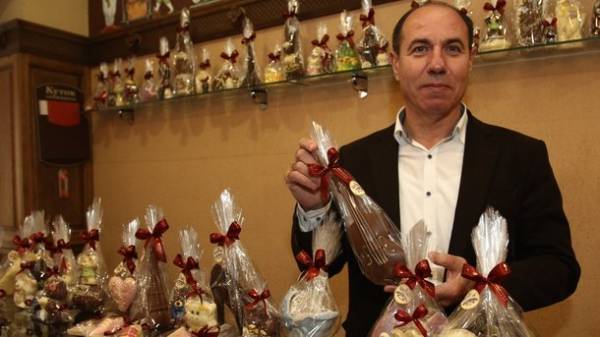 When on vacation the boys in Yalta in search of a summer job I had was at the boathouse, to the fishermen, Igor Bondarenko was producing pocket money a completely different way. "My uncle worked at the Plant food pastry chef and called to the disciples. I sowed the powder, were laid from the boilers boiled condensed milk, and dreamed about how to create their own masterpieces," recalls the native of the Crimea, and now — a resident of Mukachevo.
But after a few years go I had to go to culinary school, and military service. And only 8 years later the goal became closer: Igor opened his own coffee shop. The menu lacked only sweets: the city already had its own confectionaries, but the former military did.
"I decided to do mine. How — not submitted yet, did nothing! And then he believed in the idea," — says the businessman. So puffs, meringues and biscuits founded a pastry house, which is now taking part in international contests in France, Germany, Turkey, and takes prizes.
START-UP CAPITAL
All courses that went confectioners aspiring firms, the owner himself attended. To this day he regularly negotiates Mester classes Italian, French craftsmen and carries his staff to Kiev to learn from the experience.
"I started with one pastry, and then there was another talented employee. The three of us and started a work — says Bondarenko. — All administrative and financial work was done by p. Mariana (been working together for 20 years!) — that's the whole team. 4 years spent on the selection of suppliers from this "team" also depended a lot. 90% of partners, according to him, were a real interview with him and Maryana Petrovna, before you shake hands. Shop on the site where the first born patisserie, went to Bondarenko in a funny, in his words, money.
SEE ALSO
How to make money on the boxes with a surprise: a business plan
"Patent rent with option to buy worth while one bedroom apartment — $2000. There were experts who suggested that the idea is worth attention, as a result, I paid a little extra and bought a beautiful room, says the chef. Then I was offered 100 and 150 thousand dollars."
All first equipment was bought used, custom equipped just jobs-the tables of the pastry chefs. The first is served word of mouth — only 8 years ago, began to help the social network.
DIFFICULT
The most laborious and complex the process was and still recruiting, says the owner of confectionery house. Need to find a person who is like his specialty, then give him the knowledge to be able to work at a specific company, and time to practice.
"An important and personal qualities of each team because we are female. My staff at work — nice music and ban disputes, — says Bandarenka. — Problems for each full, but I strongly asked to leave all the negativity outside of the shop: each candy absorbs their spirit energy".
Recently there is another problem: trained staff one by one funneling overseas, where the pay is significantly more. "I understand that to pay decent wages we can't yet. Before the dishwasher we had $ 300 — more than 600. Today the equivalent of these amounts is — insane — says the entrepreneur. — Try to keep the other team — to give interest-free loans for the decision of personal problems".
CHANGES IN LIFE
"Happened in a sweet way," jokes Igor Bondarenko. The habit Breakfast to finish the cheese cake, lunch and cream, and tasting products every day.
"But most importantly, I met many interesting people, they opened up my world of pastry arts, he says. — Grateful that they put in my social circle these talents".
And every competition, says the pastry chef, is a lot of new experiences: "Always adopt new approaches to work, you catch yourself on the flaws, just enjoy the beauty of the patisserie and build new plans."
EXPERIENCED ADVICE
It is important to not place in the championship, and participation, says Bondarenko. The competition encourages the birth of new products, development is in the details and as a whole, so in the event you need to invest, though, and have to spend money on materials. No matter how hurried to cover expenses — remember the pocket of the buyer, he advises.
"I want my Twinkies eaten, not admired them in the window. Therefore, the margin to the cost is minor, and work in the capital not in a hurry: here are the prices for renting premises such that any Eclair will soar in value up to heaven, — says the owner of confectionery house. — And in the province Uzhgorod and Mukachevo, despite the fact that the cheapest coffee grinder — from 350 euros, and a coffee machine — 1500, you can still sell a Cup of coffee for 12 UAH and keep momentum."
A SUCCESS STORY IN NUMBERS
Igor Bondarenko today — owner of a chain of 7 coffee shops in Mukachevo and Uzhgorod. In 3 establishments weekly to take a large batch of cakes, pastries. This he had dreamed of since the age of 14, and now he was 50. The café sold about 80 kinds of sweet delicacies, of which more than 30 are created from original recipes. Separately, chocolate boutiques with the masterpieces of the chocolatier. And absolutely everything is manual. It's time consuming: there is a ganache (chocolate cream mixture) that are several hours and some items take 2-3 days. The first room under the coffee house cost him $5000, and the first b/removespyware machine — $200, every trip to the championship is worth tens of thousands of hryvnias, but for the work needed.
The first student fee he will remember for a lifetime — 32 rubles. Today's work Mukacheve calls modest, saying that on a trip to Turkey enough, but luxury goods still does not allow it, constantly invests in the development. "My wife says it is time to invest in a personal life, to buy a car interesting. And I go to my workhorse for 9 years," — says the businessman.
Comments
comments