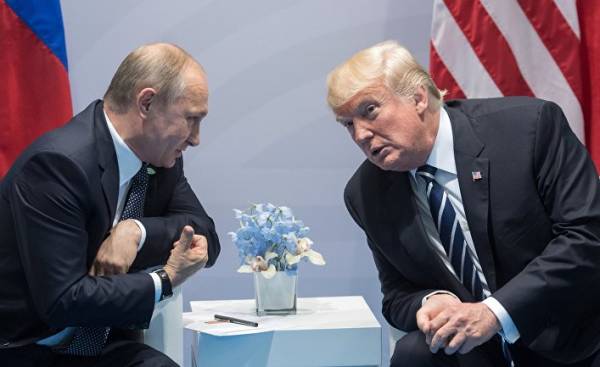 Recognized center Pew Research Center conducted a survey among more than 40 thousand people in 37 countries. Respondents had to answer the question of whether they believe that the President of Russia Vladimir Putin and US President Donald trump will "to act correctly in solving international problems."
In General, both leaders results unimportant. In the middle is Italy, it is a so-called median. Putin is trusted by 26% of Italians. For trump, the median is 22% confidence, that is how much it gets in the UK and Canada.
In the US, opinions were divided
In the United States that Putin will do the right thing, believe 23%, while the corresponding trust against the Trump experience 53% of Russians.
In the US the Democrats are a lot more skeptical in relation to Russia and Putin than Republican. 61% of those who consider themselves Democrats, believe that Putin is a serious threat to the security of the country, only 13% trust Putin.
Among Republicans Russia a serious threat to I think 36%, while 34% — about one — third rely on Putin's ability to function properly. Two years ago, voters vote for the party were almost unanimous in their views on Putin. Then he was entrusted with, respectively, 20% and 17%.
Independent voters on the question of the attitude to Russia are somewhere in the middle between Democrats and Republicans.
Some NATO countries put Putin above the trump
As for allies, then the views on the two heads of state observed a great variety, and the ability to assess international issues a trust Putin more than Trump. The biggest difference among the countries-members of NATO is observed in Greece and Germany, where Putin received respectively 31% and 14% more than trump.
The most trusted Putin in Japan, South Korea and member countries of NATO, like Greece, Germany, Turkey, Hungary, France, Italy and Spain. But in the UK, Canada, the Netherlands and Poland have more trust in Trump.
Norway in the survey did not participate, but the Institute interviewed Swedes, and 12% of participants said they trust Putin, and 10% to Trump.
The most skeptical to Russia is Poland
The Pew report relates primarily to look at Russia and President Putin. One country clearly stands out for its skeptical attitude towards the superpower in the East. In Poland, only 4% believe that Putin will behave in the international arena, and 65%, almost 2/3 of respondents believe that Russia is a significant threat to the security of their own country.
In Turkey, a majority — 54% — also said they believe Russia is a serious threat. In all other countries, less than half shared this view. In Sweden, the figure is 39%.
Least of all Russia fears Vietnamese (11%), they trust Putin (79%).
(NTB)
Comments
comments