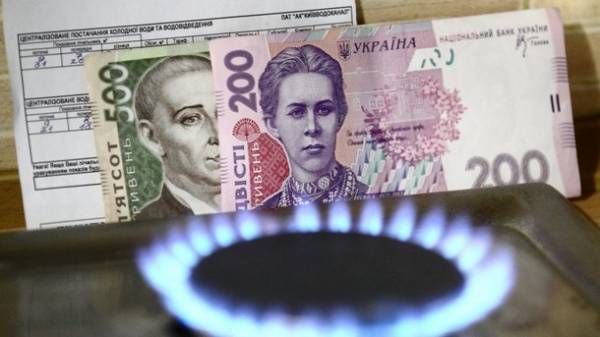 In may, the norms of heat consumption reduced. For gas heating – from 5.5 to 5 cubic meters per square meter, and for Central – 0,0548 to 0,0431 Gcal per square meter of heated area. And given that the subsidy covers the social rate, in proportion to the reduced discount on heating. For example, if last winter for heating the building with an area of 70 squares subsidy covers 385 cubic meters of gas, after reduction of standards on the same house will give only 350 cubes. If you consume like the "old norm", in excess of 35 cubic meters will have to pay without subsidies. According to the current tariff for natural gas this amount will cost 238 USD.
Gas prices in Ukraine established by the Cabinet of Ministers, and the cost of heating, which depends on the prices for natural gas, says the national Commission in the areas of energy and utilities. As stated by the Prime Minister Vladimir Groysman, the cost of natural gas can vary dependent on the level of inflation, but the reason for the spike, the Prime Minister said, at the moment. "The prices (of gas. – Ed.) will remain in the natural fluctuations of prices in line with inflation including. Because of some drastic changes in pricing will not happen. And as prices for housing and communal services, they are formed or an independent Commission for regulation of utilities (NKREKU. – Ed.)", – said the head of government.
At the same time, experts in the field of energy believe that the reason for the growth rate of natural gas, and therefore the heating – there. Thus, the Cabinet of Ministers "tied" the price of gas to the cost of imported fuel. Formed when a rate of 6.8 UAH per 1 cu. m of gas for Ukraine was worth $ 185, and the budget for this year includes: the gas will cost 246 dollars. According to the decree of Cabinet of Ministers №90 from 21 February, the tariff for natural gas must revise the first of April and first of October of each year. The revision will take into account the monthly average gas prices in the German hub NCG (per semester). If you find that the rate of generated on import parity, higher current is not less than 10%, the price needs to be revised. Read more about why can increase rates can be found here.
Comments
comments