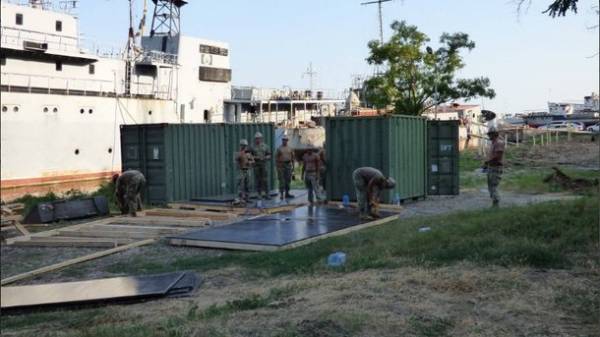 In Ochakovo the Nikolaev area, closed to outsiders of the naval port, the "sea bees" (as it is called the construction battalion of the U.S. Navy) began to build the Center for marine operations of naval forces of Ukraine. It is expected that he will be the focal point for the international naval exercises, and will be sort of a marine Outpost in the South of Ukraine.
As told "Today" the speaker of the Navy of Ukraine Oleg Chubuk, the construction was started in the framework of cooperation between Ukraine and the USA. "The US Navy is implementing the project in Ochakovo, which aims to improve the infrastructure, increase the level of defense seaport — told us Oleg Chubuk. — Emphasize that we are talking about a building construction project in the interests of Ukrainian-based IUD, and not in the interests of the foreign fleet. In addition, this infrastructure is planned to use actively in the framework of the Ukrainian-the American doctrines "si breeze".
Meanwhile in Russia have already called the construction "an unfriendly step and a provocation."
Sailors told us that such a center equipped in the future new technological developments will bring to a qualitatively new level the system of management of our fleet and will enhance the defensive military port. In other words: during a training exercise, and military threat from the sea Ochakov will become the command post. Let's remind, that in the port of Ochakov after the annexation of Crimea are based ships of the military Navy of Ukraine, so the defense of the port and protection of the black sea is of strategic importance. Part of the port facilities will be improved, but it is planned that there will be new buildings of the so-called sandwich panels. According to seamen, the construction will take about a year.
Experts say that the site for the future centre was the best possible, noting its convenient geographical location. "This Centre are, by and large, will be the opposite of Crimea, that is, the command is on the first line. On the one hand, such proximity in the event of hostilities could be the first to get hit, but on the other hand, will allow us to monitor the situation and make decisions quickly", — says military expert Anton Mikhnenko.
Comments
comments