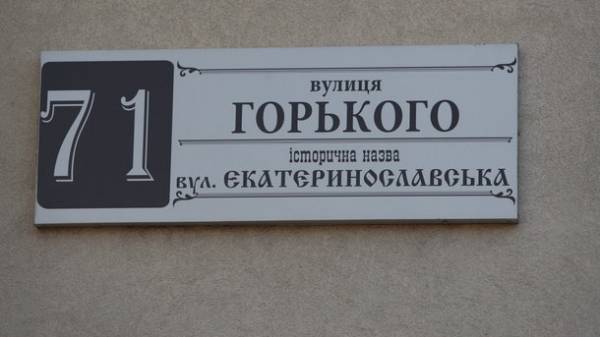 During the year in Ukraine was renamed 11 thousand streets. These are the results of "Yandex. Ukraine". Got decommunization and to natural features and parks. "Today," found out where there was the most original name, but still plan to rename.
STREET. Of renamed streets the majority of streets of Lenin and October (nearly 500 throughout the country). Behind them the leaders of Komsomol (240 of such streets vanished), Shchors (200) and Frunze (190). Among the areas most attended d
CommunicAsia streets of Dnepropetrovsk (1400 alleys and avenues), Kharkiv (1300 streets) and Kiev (1000).
But at the same time on the maps is still possible to find hundreds of Soviet titles, which the local authorities have not yet realized the hands were still at least 430 of the streets Lenina, 400 — October or October and not less than 280 — Soviet. "It is possible to explain the situation with Crimea and individual districts of the Donetsk and Lugansk regions, where the streets are not renamed. And, for example, of the 26 renamed the country the streets of Valentina Tereshkova (the first woman-cosmonaut. — Ed.) 16 were in Transcarpathia", — explained in the "Yandex. Ukraine".
There are trends and new names. The most common new avenues or alleys is now called Central (about 170 of such streets across the country), Cossack (140), Catholic (120), Cherry (100) and Viburnum (90). "A very popular topic rename — religion: there are about 320 Annunciation streets, Voznesensky, Svetinikolska and Transfiguration. In second place is "tasty" names: Bread, Sugar, Raspberry, Honey. The third — feelings and emotions: Happiness, Joy or Fun," experts say.
And the most unusual names were the Shanghai street is the street Kotovskogo in Konstantinovka, Spring Lily of the valley is Tsyurupinskoe lane in the river. Often chosen and just "convenient" names: St. Lenin in Transcarpathia was the building of John Lennon, March 8, in the Volyn region — street of the myrrh-Bearers, and Rosa Luxemburg — street of Roses.
"New names is solely the product of imagination of local authorities. To dictate one can not", — told the "Today" expert of the Institute of naramata Bogdan Korolenko.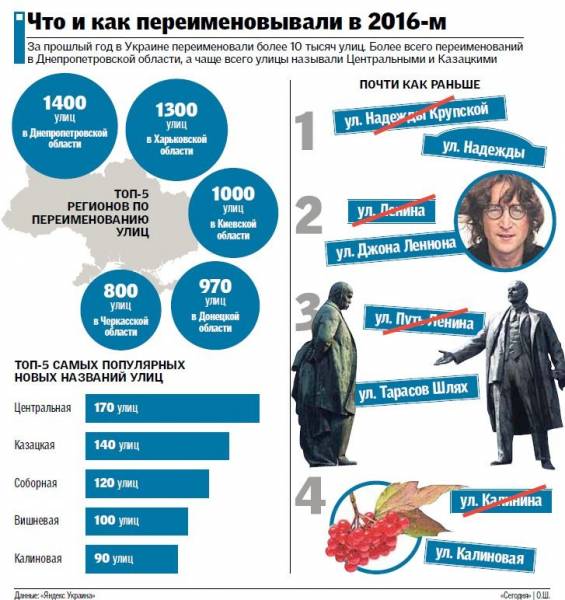 THE OAK AND THE ISLAND. Not limited to officials. So, I changed the names of several dozen parks. For example, the reserve "of the Soviet Carpathians" in the Carpathians was renamed "Fir" and the Park "50 years of October" in Kropyvnyts'ke (Kirovohrad) — in the Park of glory, the oak of Peter the great called "the giant oak". In turn, according to the Institute of naramata, island and lake to Lenin in Zaporozhye, Dneprodzerzhinsk reservoir. Participate in renaming and activists. They propose to rename the Ministry of environment on Chernigiv region Schors'kyi forest, in the Chernivtsi region — cave "Pioneer" and the cave "Soviet" in Transcarpathia.
Comments
comments