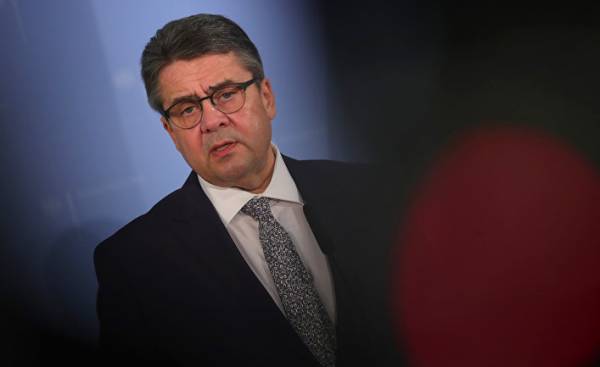 The German foreign Minister said in an interview to our edition your opinion about close to the end of a "Grand coalition", a dangerous development of events in Turkey and their future after the imminent elections to the Bundestag. Our correspondent met him on the island of Sylt.
Stern: Mr. Gabriel, are you still during the holidays made all the more urgent a call for caution against the Germans on possible trips to Turkey. Do you think it made an impression on the Turkish leadership?
Sigmar Gabriel: Definitely. The Turkish government is obviously noticed that we were serious. So they again took the initiative, as evidenced by several telephone conversations recently. However, this is not enough. The main problem still is that Turkey is increasingly moving away from democracy. And that there behind bars get innocent people, including nine citizens of Germany. It is not yet clear…
— …thus to each of them threatens till 40 years of imprisonment.
— Politics in Turkey as follows: even political resistance to the government is considered terrorism. We say to the Turks that it is unacceptable to treat terrorism in a similar way. They must demonstrate evidence of guilt of the people involved in the coup, and then we will be in a certain way to act. If in Turkey they are waiting for a fair trial, without torture and executions, we will even be ready to give the instigators of the coup, because, of course, we condemn last year's coup attempt. But the Turkish leadership must show us evidence of guilt of persons in Germany.
But that's what it still did not. And we definitely we find unacceptable strategy of the Turkish government intended to use the coup to suppress dissent. It has nothing to do with the legal state. Based on this closeness between us is impossible.

— Do you have some kind of "red line"?
— I am not a supporter of such terms, because things can change very quickly. Who would have thought that Turkey would be suddenly seized innocent citizens of Germany? Or that thousands of employees of the local justice authorities of various levels and law enforcement agencies will simply be dismissed? It is clear to us that Turkey is moving in this direction, will never become an EU member. And another announcement about a return to the death penalty was the end of relations between Europe and Turkey. That's for sure.
— Warnings from the EU and clearly heard for a long time, but Turkey on them while did not react.
Yes, you are, unfortunately, right. But now we see that the Turkish government responds to economic pressure. The tourism industry is critically important for Turkey. But to be honest, she is experiencing not the best times. The fact that the Turkish authorities have declared war on more than 600 German companies, starting with Daimler and BASF and ending with stalls, selling Shawarma, suspecting them of terrorism, is unacceptable. When we cautioned our company from investing in Turkey, the government immediately stop this nonsense, calling the incident "a misunderstanding." That's good. But, unfortunately, nothing has changed fundamentally.

— Can diplomacy in our time to have success without additional economic pressure?
Often this pressure is necessary, and it makes me sad — my heart bleeds. Incidentally, with regard to recommendations on travel. Small hoteliers, owners of stalls on the beaches who live in Western Turkey and survive thanks to tourism — all Turks, infinitely positive attitudes to Germany.
— So it turns out that the victims of the warnings against traveling to Turkey are not those against whom it was directed?
Yes. However, we say: these measures are directed not against the Turks, and not against those of nearly three million people in Germany have Turkish roots — regardless of whether they are German or Turkish passport. They are citizens of our country. We are grateful to them for much. They contribute to our economic growth and enriched our culture and social life. We don't want them moving away from Germany, but we also ask to treat with understanding to the fact that our country cannot stand idly by as Turkey unfair things are happening.
— Earlier you were too soft?
— To be understanding, have patience, not to succumb to provocations — all this hardly helped. After all, Erdogan, among other things, compared the us with Nazi Germany. We do not have to pay him the same coin. But our friendliness and patience has not led to anything good. Bitterly aware of that. What is happening now, the bad: only pressure can change the situation.
— Is it possible to argue that the Turkish leadership is likely to damage itself in the long term, the consequences of which will be impossible to fix?
— Yes, the risk is really big. The Turks and Germans brings together a rich common history and the current conflict should not destroy this wealth. There is Turkey, which is much more important than the current government of Turkey. But we can't sit idly by and do nothing. And these recommendations regarding the travel to Turkey related to the fact that we can't be sure that the detention of innocent citizens of Germany will not be repeated.
— Is this danger real?
— Imagine that you for many years go to Turkey to visit friends. One of these friends is now suspect to be sympathetic to the Gulen movement. And suddenly you find themselves under suspicion of terrorism.
— Do you have evidence that German citizens were subjected to violence in Turkish prisons?
— No. But the detention itself is a bad thing. There is, for example, a German translator and journalist, who along with her two year old son is in jail. Two-year old son! She has German citizenship, and we suggested to her to start the process in Turkey was released. But still she was denied.
— The term of your tenure as foreign Minister is gradually coming to an end. What crisis along with Turkey, concern you the most? What, in your opinion, you during the work managed to achieve?
— Unfortunately, in the coming years, a little something will be able to achieve. We live in a time when it would be considered a great achievement if the world does not become even more dangerous. In recent months we have worked a lot in Africa, where the fight with hunger. We have collected a lot of money for these purposes, because only one military assistance is insufficient. Only if people have the chance for a better future, they may be refuse associated with the great dangers of the flight to Europe. I'll go to South Sudan and Uganda. Wolfgang Niedecken (Wolfgang Niedecken) of the Cologne rock band BAP will accompany me.
He's got a project for the integration of former child soldiers into a peaceful society. This theme I'm going to do until the last day as the Minister, how long would I have had to do this work. This century will be the century of Africa. The population of Africa in the coming decades will double and will reach three billion people. And either we will manage joint efforts from Europe to Africa to prevent further war, including civil, defeat hunger and poverty, or we will arrive new refugees.
— Martin Schultz recently criticized precisely in the fact that he made this theme one of the themes of his campaign.
— I find these accusations absurd. In Italy we see that Europe cannot solve the refugee problem. For Italy this is already a disaster. There is the same situation that happened in 2015 in the Balkans. The fact that the SPD Chairman and Chancellor candidate, Martin Schulz, warns against this and calls for the Chancellor and CDU head Angela Merkel will not sit idly by, is absolutely correct. This is one of the key issues in the coming months, and possibly years. And power, which, like the CDU and CSU, refuse to discuss these topics ahead of the elections to the Bundestag, in fact, intentionally seek to mislead voters.

— You expect the second large wave of refugees?
— The truth will be known after the elections to the Bundestag. It is impossible not to notice that now the refugees are arriving through Libya to Italy, and now they are there to stop it. But Italy is unable to cope with the influx. In this matter again there is no solidarity. The European heads of government must look for ways to get out of that situation, to prevent the "dam break". Germany and Austria will once again become the main victims — as in 2015.
— So you think it's right that Martin Schulz focuses on this painful topic?
— Martin Schulz doing the right thing. First and foremost, he's telling the truth. And he rightly calls on Angela Merkel to address the European Parliament against financial support to countries that refuse to show solidarity with the immigration issue. Because Europe is not a community where you can participate with the goal of more money. Members of this community must understand that they will be refused in solidarity with countries who are forced instead to accept refugees. We need to encourage those who care about refugees, and to financially punish those who refuse to be supportive.
— Maybe it would be worthwhile to prevent the movement of refugees in Europe in Libya?
— Yes, it's true. What are we doing in Libya? Many say: "Let us build there camps for refugees". It's a great idea, but only that you need a running state. Now, many refugee camps are under the control of highly questionable armed groups. A German diplomat wrote to us that conditions there are similar to the conditions in the concentration camps. I visited one camp, controlled by the Libyan government. The situation was very grim.
Before my arrival released there 400 people, so there was at least a little free space. In fact, in the first place, we need a normal state. And Europe and the Persian Gulf, Egypt and some other must stop in Libya to pursue only their own interests. This leads only to the fact that every government is hiding some kind of grouping, and the national government has no chance of success.
— Can you imagine a diplomatic settlement in Libya under the lead of Germany?
— Leadership needs to take on Europe. But the dilemma of European foreign policy is that all just say that we need a common foreign policy. But in reality, national States seek to prove that their foreign policy is the best. This is due to the European history — a United Europe was founded not as a "global player" and as "internal." And now we have to get used to the role of "global player". We need to learn — now I will speak in the language of diplomacy to act hard means. We are talking about the military forces to, for example, to carry out peacekeeping operations. Before we left the US, sometimes the Brits and the French. But as a United Europe we've done this ever.
— Now you say almost the same as the Americans.
— Their position on this issue is correct. This is our, not their neighboring region. Our strength is in the fight against hunger and poverty there, but we can't provide military security to the chances of a peaceful life. We Europeans — with the exception of the UK and France — do not want to deal with these unpleasant things. We want to build the UN village, but to protect them should be someone else. We'll have to come up with a number of very unpleasant questions.
Ahead of the election, the disposition is clear. Neither CDU/CSU nor the SPD do not want to continue the "Grand coalition" and I hope to come to power together with smaller coalition partners. Not having there doubts about the effectiveness of the current government?
— Well, actually, it is reasonable that the SPD and the CDU/CSU would prefer to rule themselves, with the participation of smaller parties, because there are many topics on which their contradictions are too great. For example, how do we minimize the "fork" between poor and rich strata of society? How can we reduce the burden on families and allow people more time for family life? How can we invest more in the reorganization of German schools and build more schools where students would spend a full day?
What should be the fair health insurance for all, to the quality of services is not dependent on the income level of the individual patient? The CDU and CSU in many of these issues do not see the need to act and even want to refuse pre-election debates on these occasions. For us the Central theme is the development of our country. And for the CDU and CSU, the main thing is to be in power. And for that, this is minor matters.
— If you ignore the pre-election passions, the positive results of the work of the current government is quite obvious. However, you want to finish these coalition relationships.
— The CDU and CSU want to rest on our laurels, and we, the SPD, saying: "Who wants confidence in the future must take care of reforms." We strive to invest in the future, primarily in education. And we want to reduce the burden on owners of small and medium income. After all, Schultz is right, considering the abolition of any tax in the kindergartens greater relief for families than General tax cuts. The CDU and CSU, however, want to lower taxes on wealthy people who want for nothing. But even the conservative Chairman of the Federal Bank rejects this idea.

— Between the coalition partners are always differences. But there are many arguments in favor of this "Grand coalition", which now all the fun, isn't it?
— No, I believe that something has to change. Look at European politics: during the Greek crisis it was extremely difficult to persuade the national-conservative HDZ to withdraw from the games with fire. Schaeuble and others wanted to expel Greece from the Eurozone. We said it certainly can be done, but then the financial markets will play against Spain, Portugal and Italy. And then, the EU risks to fall apart. Germany's future lies in Europe — with all the necessary changes in it. And the national-conservative part of the CDU/CSU doesn't want these changes, instead making a bet on Germany in the role of a sort of "guardian" of the Europeans. So it's good that the "Grand coalition" is about to expire.
— Do you believe in the course of Martin Schulz?
— I have already told your publication that Martin Schulz is the best candidate of the SPD, and now sure. Because there's something no one can imagine as convincingly as Martin Schulz, the future of Germany in Europe. He is one of the greatest Europeans of our time and has rightly received a Premium for it Carl. He, like anyone else, knows that the future of our children and grandchildren in Germany will be reliable under the stable of the European Union. In our country there are jobs, only if our neighbors could live so well that they will buy our cars and equipment. And, first and foremost, Martin Schultz knows what it needs to do. Honestly, the CDU and CSU in all European issues fighting against us. And quite often against their own Chancellor.
— You can imagine an even greater rapprochement with the United States in the near future?
In any case, we are interested in this. Now I might surprise someone, but I will say a few good words in address of the new U.S. administration: Secretary Rex Tillerson in recent months have demonstrated how successful European and American politicians can go toe-to-toe. During the "Qatar crisis," Tillerson spoke from the same position that we are calling to abandon the isolation of Qatar. We jointly find a way out to keep the Gulf countries together. In the end we managed to prevent the threat of war. In addition, Tillerson — the man, speaking against a trade war between Europe and the United States.

But is it possible to imagine cooperation with Donald trump in the long run?
— Despite all the skepticism about the presidency, trump and related doubts, one must admit that without the US the Fuse would have been much weaker. In political and cultural terms, no other country close to us as well as North America. So I think that we should not enter disputes with the United States too far. But at the same time, we should not curry favor with them. We should try to preserve the transatlantic relationship and to seek opportunities for further joint promotion with the Americans.
— You can continue to consider Russia a reliable partner?
— I have a feeling that Russia realized two things. Vladimir Putin hoped to achieve equal partnership with China, but his hope did not materialize. The Chinese clearly said: there are only two superpowers: they and the Americans. The second Russian hope for improved relations under the new US administration compared to the Obama administration, which they regarded as too unpredictable and too "spineless", also failed to materialize. Therefore, Russian again gently turned his face to Europe.
— You are already experiencing pain from the upcoming resignation of the foreign Minister?
— Believe me, with this post, nobody leaves happy. However, I now do not think about what will happen after the election. I'm ready to recommend any policy: appointed to the post, strain until his very last day in office. And don't think about what will happen after. Do everything you can in the allotted time to you.

— Just six months ago you was not popular among the population. Now you are the second in popularity among all politicians in Germany.
Well, more than 40% of the population, and then considered my work good. But you are right: foreign Minister sharply increases the personal popularity of its owner. I don't think I've changed. It's just that this post is always in the limelight. In January, Martin Schulz, was much more popular than me. Then it was still seen as the President of the European Parliament. But the moment when a politician assumes the office of Chairman of the SPD, it starts to cause much more controversy.

The large weights?
— No, it is absolutely normal and part of the rules of the game called "politics". The party Chairman is evaluated by party politics. Angela Merkel has, in this sense, the advantage of occupying the post of Chancellor. When she was "only" Chairman of the CDU, its popularity was also significantly lower.

— You still believe in the victory of the SPD?
Oh, I'll tell you quite frankly: in the past six months we have experienced several dramatic changes. About 60% of voters believe a change of government necessary, and nearly 40% are unsure for whom to vote. But the real pre-election struggle has just begun.

— From 21 to 33% and back almost to their previous values. It is not excluded that the decline will continue.
Experts do not exclude that the "Alternative for Germany" can also get 15%, and now her rates vary at the level of 5-7%. "Green" was once considered stronger than the SPD, but now they are also 5-8%. In the elections the beauty of it is that the decision made by the citizens. We are now talking about two aspects, and Martin Schulz is doing everything right: first, we cannot be complacent and rest on our laurels.
This is a big danger. We must invest in the future: in education, science and digital infrastructure. As well as in the reorganization of schools. When Mrs Merkel says that we have no investment problems, and there are problems with the planning, it's a gamble. Because ask for a minute of the parents look like the school toilets. It's just impossible!
— You want to make Germany more competitive, repairing the school toilets?
— It's not about them. But many people whose children go to school, can tell about the poor state of our schools. When I was a schoolboy, I first went to the newly built school, then in new real school, and then in the new gymnasium. We could literally understand what should education in our country. Today, all is often different. In addition, now we need more schools where children will spend a full day, you need more teachers, educators, and high speed Internet.
Parents already can not see how the Federal, land and municipal authorities without end pawning off responsibility on each other, and nothing changes. Why Martin Schulz is absolutely right when he says that the SPD is planning a major program on upgrading of schools and construction of schools to a million students instead of the pointless tax cuts. These schools need to learn the best students. Schools must be "temples", not "forge banking and bureaucratic cadres." And that this aspect makes the CDU? Angela Merkel, in fact, does not want to participate in the election campaign. She doesn't want to talked about this. It is the policy of "sleeping-car" — and it is dangerous for our country.
— CDU seem sure what to do. Angela Merkel does not admit of doubt, who in late September will take the post of Chancellor.
— CDU has always understood that the rule is what it is. And if it is not, then it would be a "accident", the consequences of which will need to quickly eliminate. Angela Merkel has always been — and remains — a good Chancellor, when looked after her SPD. We well remember the days when the authorities were also involved in the FDP. When the agenda was lobbying, tax cuts for companies Mövenpick and the like. It's just pretty hard for many years to watch over the Chancellor. And understand why the SPD didn't want to do that. And I also understand the national-conservatives like Punks Jens (Jens Spahn) from the CDU, when they don't want to be in coalition with us. Because he wants to increase the military budget to 2% of GDP, while reducing social spending. And in a coalition with the SPD to make it fail. So we want to "break up" with each other.
— You told in interview to our edition that the post of Chairman of the SPD — the most important in your political career. Is that still true?
Yes. If we will ask me if I feel the pain of loss, looking at politics, I will say that I feel it is because of this worthy of respect of office. The SPD has existed for over 150 years. It is the democratic constant in Germany. Party members gave their lives for democracy and freedom. To be Chairman of this party is a great honor. My benchmark has always been Hans-Jochen Vogel (Hans-Jochen Vogel). As Chairman of the SPD, he knew that he will not become Chancellor. However, he led the party in a very disciplined way.
For four years you might change your mind.
— No. Such "games" are not allowed. We have a great candidate for Chancellor who has a very good chance to win. And that regardless of the election results will remain Chairman of the SPD.

— Many believe that the appointment of Schultz — just a "chess move" on your part.
— My grandmother always said, "When I have something to think and do, I believe that the way to think and can do any other". Those who suspect any intrigue probably just too long faced with dishonest conduct in politics.
— What will you do if after the election will not get a Ministerial portfolio?
— I'm not afraid for its existence. I support the candidate from my constituency. I was refused a place in the lists, to give the opportunity guaranteed to get into the Bundestag others. In his constituency, I still never lost. And on September 24 I want to win.

You can imagine that takes in the Bundestag place "in the back"?
— Yes, of course. The democratic position is the position of the freely elected deputies. It is more important than any place in the government or even the Federal presidency. Because without these freely elected parliamentarians would not be democracy. I always tell younger colleagues: don't fall in love with his job. Because Willy Brandt once rightly said: "We are not favorites, we are chosen". I, for one, can't stand when someone calls me "sir". I don't like it.

— You may not have long to endure it.
— That's not it. You just can't get used to such posts, when you get the pleasure of working in the government. I get this pleasure and, of course, would be willing to work for the good of their country. Nevertheless, I often say to people referring to me as "Mr. Minister", "the conversion, "Mr. Gabriel" will be enough." The word "Minister" is not part of my name or degree.
The Minister can only be for a limited time. And how long will it last, does not depend on me personally. I speak absolutely seriously: humility before a position of trust should be the main internal attitude towards democratically occupied posts.
Comments
comments