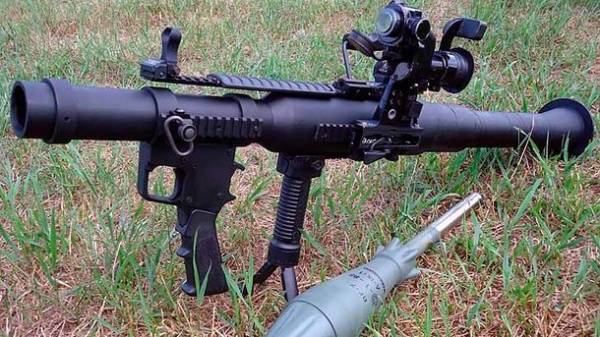 American lethal weapons in Ukraine – after the supply of sniper rifles 12.7 mm a Barrett M82 and М107 Armed forces and the national guard of Ukraine, the United States carried out a new supply of hand grenades PSRL-1. About this on his page in Facebook wrote to the military expert, the journalist Yury Butusov.
According to him, in April 2017 the National guard bought 100 of these launchers from the American company AirTronic USA. The grenade launcher is an American modification of the Soviet RPG-7 grenade launcher which is in service in Ukraine, but "has more comfortable ergonomics, manufactured using composite materials and has changed the shape of the nozzle, which enhances the weapon's characteristics with regular the usual rounds for RPG-7".
"Now Ukraine buys frag grenades to RPGs abroad. In the presence of a larger number of shrapnel shots, and ideally when you deploy your production, as well as the acquisition of these grenade launchers sights for firing from the closed position, the combat capabilities of the infantry will be seriously strengthened," – said Butusov.
According to him, the same upgrades "could and should be inexpensive to make for all Ukrainian RPG-7", so as to buy large quantities amerikansih grenade launchers expensive – "the cost over 5 thousand dollars per unit".
SEE ALSO
Ukrainian soldiers on the front line of the ATO has raised salaries
Butusov also said that the main thing in the delivery – not the number of grenade launchers, and the fact that it soglasovaniya.
"The important thing is that after "Barrettali" Ukraine has managed to implement another shipment of lethal weapons from the United States. There is no doubt that U.S. regulatory authorities, the transaction is recorded, but not abolished, despite the current ban on the supply of lethal weapons to Ukraine. It is difficult to overestimate the political significance of this step is an important advancement", – Butusov wrote.
According to the expert, such deals bring "long-awaited and necessary" the decision by the US government to provide lethal weapons to Ukraine in the framework of the programs of American military aid.
We will remind, the state concern "Ukroboronprom" in may, presented at the 13th International exhibition of military equipment IDEF-2017 in Istanbul new portable rocket launcher.
Comments
comments