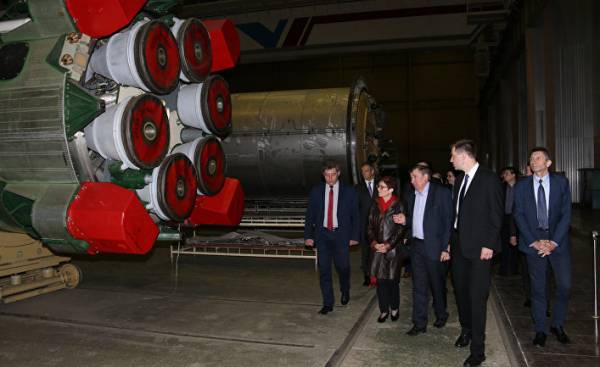 In publishing The New York Times published an article that Ukraine is allegedly involved in the supply of engines for ballistic missiles to North Korea. Everything is a lie and here's why.
It is no secret that the United States has long been interested in the production of engines for its launch vehicles, after all, to establish a complete cycle in the country for that year does not work. Although it is worth noting that in America now tests rocket engines, but so far without success. And on the agenda of the Russian RD-180. This year in American government circles, increasingly, are the claims that from any dependence on Russia in space technology need to get rid of. And what to do if you can not do yourself, but really want? Properly turn to those who, under certain incentives, providing the necessary framework and funding can. And can just a powerful Ukrainian enterprise "Yuzhmash".
Let's see what happens with this once really the flagship of the world's most powerful enterprise in the field of space and rocket technologies. Over the past seven years has systematically reduced funding, decreasing the workforce and production capacity "Yuzhmash." In 2015, the company's employees came out to protest, demanding payment of wage arrears. All of this suggests that "Yuzhmash" piece trying to bring to a state of bankruptcy with the aim of reducing the prices of this very important strategic asset for future privatization. At the time, even the second President of Ukraine Leonid Kuchma said that "Yuzhmash" may have to be put up for privatization. After all, with such attitude of the state towards the rocket and space industry, as in recent years, companies in the future may become only one name.
And now the provocation organized against "Yuzhmash", which aims to discredit the government and the enterprise, they say, look, you do not cope with the management of the enterprise, your technology can be used against our enemy North Korea. So better train expose "Yuzhmash" on the privatization and admit it to the "contest" American company that is in it to win. Well, what money? They quickly disperse. And Americans get the company that can really make them independent in the aerospace industry.
That is so, we will see in the near future, but for now I would take firm and decisive action from the Ukrainian authorities. It's time to decide, or we invest, do not give to stop working "Yuzhmash" and develop the enterprise, or in the future, prepare it for privatization it is the American companies.
Category "I — Reporter" is a platform of free journalism and is not moderated by the editors. The users independently upload their content to the site. The editors do not share the position of the bloggers and are not responsible for the accuracy of presented facts.
Comments
comments