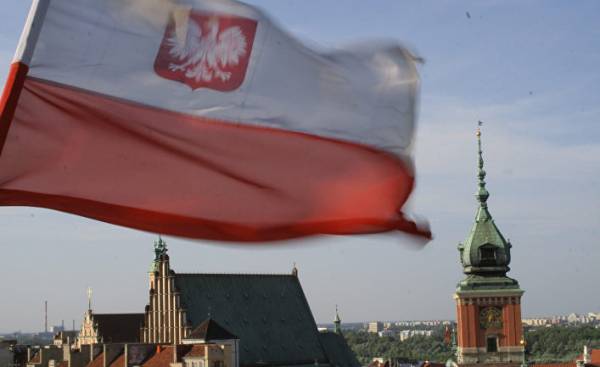 Broke diplomatic scandal between Poland and its two neighbours — Lithuania and Ukraine. In relations with Warsaw, there are a number of historical contradictions that failed to smooth out.
Poland next year is preparing to mark the centenary of the restoration of the state and in honor of this event, wants to issue a new passport, pages which included to depict important for the history and independence symbols. What is planned to solve by means of voting on the Internet. Among the characters competing to be shown on passports — the Holy gate in Vilnius, in which Latvia is better known as Gate of Dawn, and Lviv memorial Eaglets.
It should be explained that the gate on the Saints since the days of the common Polish-Lithuanian state (Rzeczpospolita) is one of the most important not only for poles and Lithuanians, but also for all Catholics of the mother of God, which is credited with healing power. Memorial Eaglets is a cemetery and place of remembrance of the Polish volunteers-defenders of Lviv who died in 1918-1919 in the battles with the Galician army, and others died during the Polish-Ukrainian war Polish soldiers. Title memorial of Lviv eagles selected because among the defenders of the city there were many women and boys, including scouts, or Eaglets, many of whom died. In Poland protection of Lviv is the same as we have in Latvia fighting against the troops of Bermont.
At the same time, neither the Lithuanians nor Ukrainians enthusiasm of Poland, to put it mildly, does not cause any enthusiasm, mainly due to historical contradictions. And Vilnius, and Lviv in the interwar period was included in the part of Poland, moreover, is not based on mutual consent. Accordingly, in Vilnius and Kiev, there is concern that Warsaw is such a symbolic step in trying to recall their let and informal, but still claim to these cities and areas.
These concerns further reinforces the fact that Poland recently undertook a number of formal and informal steps that are difficult to interpret differently, as if not quite the desire to restore Poland from sea to sea, then at least to become a state playing a crucial role in the politics of Eastern Europe and partially also of the Balkans. Due to this background the project passport to the century of the Polish state no longer seems an innocent idea, as is trying to present officials. For this reason, regardless of what goals are the basis of the mentioned project, Warsaw, still would have to refrain from updating sensitive historical topics without coordination with its neighbors. Moreover, because the primary recipient of dividends from these differences — Russia, where the press is following with interest what is happening.
Comments
comments