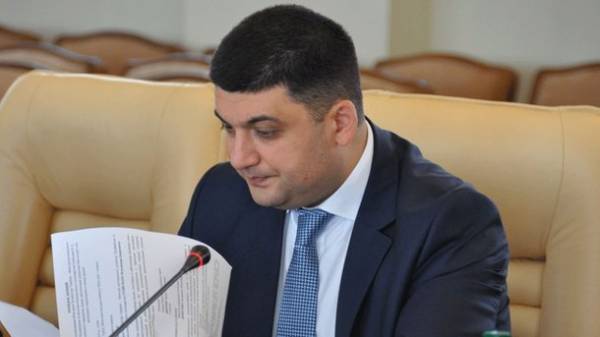 Ukraine is interested in expanding cooperation with Israel in the field of science, research and innovation. This was stated by Prime Minister of Ukraine Volodymyr Groysman during a meeting with his Israeli counterpart Benjamin Netanyahu during his official visit to Israel, reported the press service of the government.
"Ukraine is interested in expanding cooperation with Israel in the field of science and research, innovation, exchange of experience in the field of public and private support for the latest scientific and technical developments, start-UPS," – said Groisman.
According to him, Israel and Ukraine are strategic partners, and there are many areas of quality of cooperation, particularly in agriculture, IT-technologies, science, education, and healthcare.
So, Groisman noted, in the field of IT and innovation, Ukraine is interested in introducing digital services in the public sector, involving technical and expert assistance in the establishment of the state of the network providing broadband access to the Internet, as well as in combating cybercrime and cyberterrorism.
Prime Minister of Ukraine invited the Israeli side to establish appropriate cooperation between the National Council of Ukraine on development of science and technology and institutions of Israel.
Groisman also suggested to intensify efforts to organize in the near future the first meeting of the joint Committee for the implementation of Programs for scientific and technological cooperation, signed in December 2015, and preparing and signing the program of cooperation in education, science, culture, youth and sports between the two countries in 2017-2019.
Separately, the head of Ukrainian government stressed the necessity of expansion of cooperation in the field of agriculture, further strengthening of bilateral trade in this area and called for increased opportunities for Ukrainian exports of high-quality and affordable products of agriculture and food industry in the Israeli market. In particular, Groisman called on Israel to resume the import of Ukrainian of table eggs and to remove its ban.
Also among the priority areas of cooperation with Israel for Ukraine, Groysman called the further liberalization of the air transport market and the removal of any restrictions on the number of flights in the routes between the States.
In addition, Groisman said about Ukraine's interest in developing tourism with Israel and has offered to host in 2017 the next meeting of the Ukrainian-Israeli working group for cooperation in this field.
Recall , Ukraine with an official visit to Israel at the airport of the Ukrainian Prime Minister met with Israeli Minister ze'ev Elkin and Israel's Ambassador in Kiev, Eliav Belotserkovsky.
Prime Minister of Ukraine noted that Ukraine and Israel should do more to coordinate their actions in the international arena.
Comments
comments