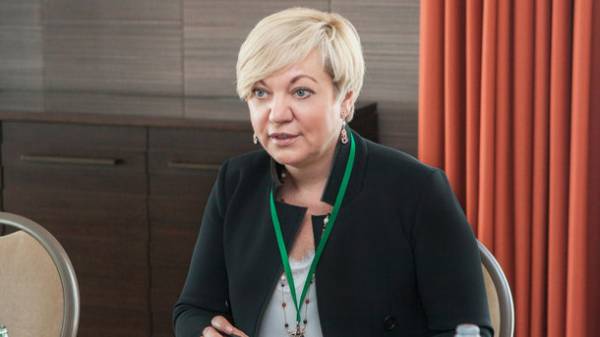 7 Aug expired paid vacation head of the National Bank of Ukraine (NBU) Valeria Gontareva, from 8 August to 26 September she will be on vacation at your expense and at the expense of compensatory time off. This was reported by the press service of the NBU.
"Valeria Gontareva is on leave from 8 August to 26 September this year. This includes 15 calendar days of leave without pay, and 20 days of vacation accumulated during his tenure as head of the NBU, for work on weekends during business trips", – is spoken in the message.
On paid vacation Gontareva was on may 11, using annual leave balances that have accumulated in 2014.
Gontareva has no plans to go back to work at the national Bank, said the press service.
SEE ALSO
Pleased to dismiss Gontareva, when you find a replacement – Gerasimov
As you know, may 10th was the last working day of Valeria Gontareva as head of the NBU – she went to a long vacation, until it will dismiss the Supreme Rada. According to the Constitution, the head of the NBU is appointed by the Verkhovna Rada on representation of the President for a period of 7 years. Gontareva holds the position of head of the NBU almost 3 years.
At the moment duties of the head of the national Bank takes the Deputy Gontareva Yakov Smoliy.
Gontareva has previously stated that he had discussed possible candidates for the post of head of the NBU Poroshenko in January, but the names are not called. Thus the public Board of the national Bank Council recommended that Poroshenko three candidates for the position of head of the NBU:
the Chairman of the Public Board of the NBU Council Stanislav Arzhevitin;
sglavo Supreme expert Council of the Board of the NBU Anatoliy Goulet;
the Chairman of the NBU Council Bohdan Danylyshyn.
Comments
comments