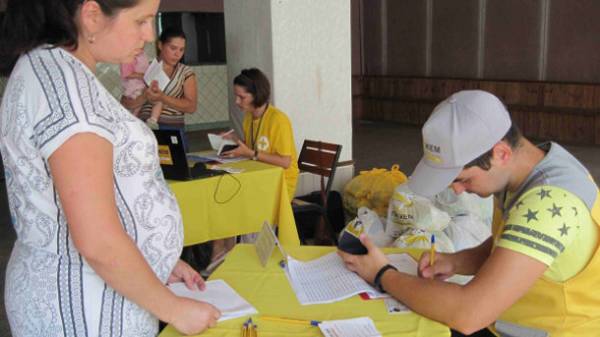 During the three years of work of the Rinat Akhmetov Humanitarian centre has become the largest humanitarian mission in the East of Ukraine. "Today" has learned about how all this time working volunteers, to the residents of Donbas will not feel abandoned.
The ELDERLY
Donetsk residents remember: when on the "Donbass Arena" has begun delivery of food packages of Humanitarian center of Rinat Akhmetov, this caused not just a surprise and a shock. "The summer of 2014 we spent, stunned by the constant shelling. Several times spent the night in the basement of our house with neighbors. Where someone said that "Donbass Arena" handing out free products, we decided that this is some kind of weird joke. But still, all the neighbors chipped in on the fare (money at all was very small), and we sent the young neighbour to see if this is true. Remember his phone call and literally scream into the phone: "Give, really give! Only need the documents!". One old woman who lived on my floor in tears, they say, will not make it. But we brought her a grocery bag. She gasped and prayed…" — shared memories a resident of Donetsk Anastasia Karavaeva.
HEALTH
Not only products but also vital medicines for children get the people as uncontrollable, and the Ukraine-controlled territories of Donbas. A young mother-a refugee from Gorlovka Victoria Shevchuk says that to get his son Antiasthmatic medicines in the village that are in the "grey zone" is unrealistic. "First, in our pharmacy, they simply did not deliver, and secondly, they have a high price and if I will buy son the entire course of medication immediately, then we are left without a penny. We're barely surviving, imagine what it's like to drop everything and move to a new place. When you need everything from cups and spoons. We fled from the shelling with a small suitcase in a hurry took only the most necessary, — says Victoria. — I turned to the hot line of Rinat Akhmetov Humanitarian center out of desperation and, frankly, not really believing that we'll just help. When I got a call from Mariupol pharmacies and offered to come for free medicines, I almost fell from surprise. My son is undergoing treatment, his condition is improving, and it's all thanks to the help Gustaba Rinat Akhmetov!".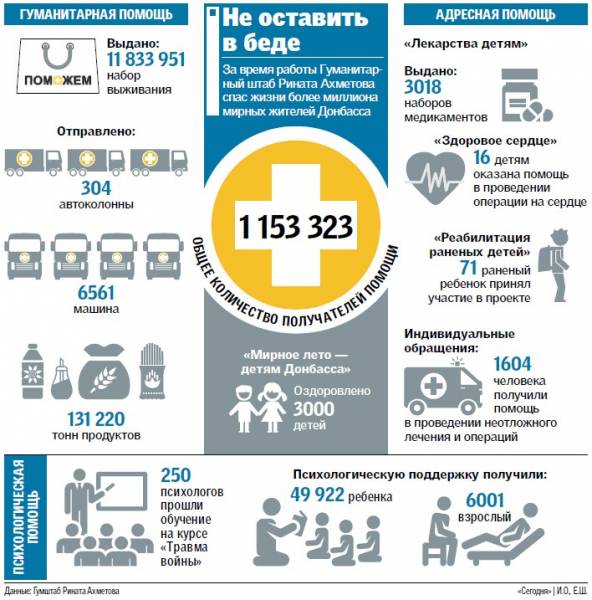 CARING ABOUT PEOPLE
As the Director of Staff Alexander Vishnyakov, from the beginning the work was intended to help people understand: they are not forgotten, not abandoned, take care of them. "The points of distribution of food packages every day came more and more and more people. It seemed to us that the stream was endless, — said the head of the Humanitarian centre. It was difficult because we had no experience of such work, but we have supported our Creator by Rinat Akhmetov, as well as our numerous partners."
According to Alexander Vishnyakov, the war in the Donbas has shown how much can one man do, sharing and helping others. Recipients of food packages told the volunteers about their elderly neighbors who are unable to come to the points of delivery. "We do not just deliver aid under fire. And not once in three years, no one volunteer said, "I'm not going — there's fire!" — said Alexander Vishnyakov.
SUPPORT
Program Manager Gustaba "Help the people" Michael Katerinchuk said: "the Need to help I was connected with respect to Rinat Akhmetov, decided to support their fellow countrymen. Felt sorry for the old people and children. And gradually, the humanitarian center has established stable working like a clock, system assist. We know exactly how many recipients in a city or village, and we always say: "Not to worry, you brought everything!".
SEE ALSO
In Kiev will give material assistance to the Independence Day: who put the money
CHILDREN
"From the first days we wanted to help everyone who contacted the hotline Gustaba, — says the head of the program "Targeted assistance" Igor Chudinov. Three years ago it all started with the evacuation of civilians from the war zone. We now have the priority of children affected by the fighting."
The most bitter moment of his work Igor Chudinov believes the story of 4-year-old Sasha Wild, whose mother died under fire in the city of Avdeevka. "Sasha shouted, "Where's my mom?!" — and we could not find the words. Of course, her mother will never be replaced and will not return, but the support that she received from Rinat Akhmetov, will help it to quickly recover from grief," — said hadzhinov.
Comments
comments