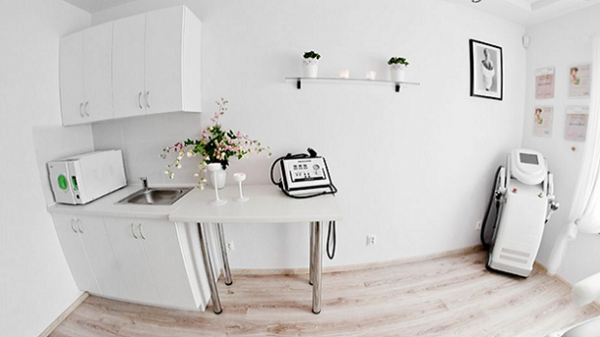 Mathematics earnings is very simple: 10 million guaranteed pulse diode laser on average 1 session of laser hair removal requires 600-700 pulses. You will be able to hold over 15 000 procedures, the average cost of which is 600 hryvnia, it will bring 9.000.000 hryvnia.
For the study, hair removal is necessary:
· the premises;
· a work permit;
· diode laser;
· ability to work with him.
The main tool for earnings: diode laser. To conduct laser hair removal requires no expensive consumables. Required: disposable sheets, gloves, a contact gel. The cost of consumables for 1 of the procedure for 5-7 hryvnia.
How to choose a reliable laser diode?
The heart of the diode laser emitter. Are different from Chinese to German.
We recommend you to pay attention to the lasers MW, with German emitters of the latest generation of Dilas with a capacity of 600 watts, they provide a maximum power up to 120 j/cm2. For comparison, the lasers Lumenis LightSheer promise – 100 j/cm2.
The main working part of the tip of the diode laser. It has three main properties: cooling, the quality of the prisms and size of the spots. Each of the factors affects work. MBT lasers equipped with semiconductor cooling handpiece to -12 °C. This cooling prevents soreness. The Peltier element, which provides solid state cooling, is made in Japan. Tip – solid sapphire glass. The secret machines MW allows the laser beam without distortion and prevents scratches that can often occur when falling headpiece!
Warranty for laser and flash. Not many companies give warranty and provide service. Company Venko provides warranty for diode laser – 2 year and 10 million flashes that brings you closer to profit of 9 million hryvnias.
10 reasons to choose a laser in the company Venko:
1) the Warranty on the lasers 2 years;
2) Guarantee for 10 million flashes;
3) when you buy 2 professionals;
4) Lasers in stock and available for testing;
5) the Ministry of health certificates for all lasers;
6) Professional references – 8 years of experience;
7) the Only official representative in Ukraine;
8) Individual discounts upon delivery under the order;
9) Quick repairs in service centre;
10) Installment up to 10 months.
How to start without investment?
If you are ready to start with laser hair removal, start with the waxing or sugaring is a great way to gather your first customers, who then still come to laser hair removal. For the start of the Cabinet waxing needed just 20,000 USD, which you can buy in installments immediately on the website venko.com.ua for 10 months.
Comments
comments