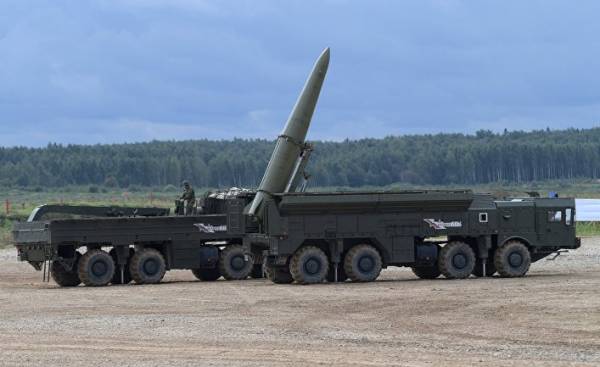 Painful for Armenia — the delivery of Russian weapons to Azerbaijan. How well justified is the concern of the Armenian side opposed to purchases of Azerbaijan's weapons in Russia? In an interview with haqqin.az chief editor of the Russian magazine "Export of arms", expert of Center for analysis of strategies and technologies Andrei Frolov noted that any supply of arms to Azerbaijan, whoever carried out will ultimately affect the balance of forces between Armenia and Azerbaijan.
"That is why any purchase call Armenia has serious concerns that Yerevan will not be able to fend off these new acquisitions. It is no secret that the financial opportunities of Azerbaijan and Armenia are incommensurable. Yerevan cannot afford to arrange a direct arms race," — said Frolov.
Haqqin.az: what about the history of rocket complexes "Iskander": whether they were delivered to Armenia or not, because in any reports on this matter?
Andrey Frolov: that the report does not say this is normal. See, there is only one world official resource called "Register of conventional arms of the UN." But there is generally some overall figures, with no breakdown on the weapons systems. Not only Russia but many other countries can give in the register of electoral information, not including all the data. So that explains why some Russian arms supplies is not reflected in official documents.
The expert community of Russia there is a consensus opinion: these cars were shown at the military parade in Yerevan. There is an export version of the Iskander missiles Russia has repeatedly said that their delivery abroad is possible.
— In Armenia have expressed concern over the supply of Russian anti-aircraft missile system s-400 to Turkey. In Yerevan voiced the version that Ankara can transfer them to Azerbaijan. Is this possible?
— Let's start with the fact that the contract between Russia and Turkey have not signed. So it's a hypothetical possibility. But if we assume that the contract is signed, it is unlikely that Turkey bought the s-400, to transmit it to another country. Moreover, Azerbaijan has purchased from Russia s-300 PMU-2. And according to many parameters the s-300 PMU-2 is comparable to s-400.
If you take the CIS, it turns out that Azerbaijan is armed with the most modern complex that Russia exports.
In principle, nothing prevents Azerbaijan buy from Russia and s-400. Another thing is that Russia will not soon deliver, as all power loaded, there are orders for the supply of the Russian army in China.
Returning to the possibility of transfer to Turkey With 400 Azerbaijan, here there are subtleties. One of them is called "passport of the end user". That is, when the supply of arms or some "sensitive" materials, the buyer signs a document in which he undertakes not to deliver the purchased equipment to a third country without the permission of the seller.
But there is a tricky moment, that we know again with the help of Turkey, when the country was deployed NATO patriot missiles. Turkey legally they belonged, but were located on its territory.
So if you simulate a situation that Turkey can just a complex move to a third country with his calculation. This complex served the Turkish military will defend the country. But it will be the Turkish army, Turkish complex.
— The defense Ministry of Azerbaijan some time ago stated that the country has the opportunity to shoot down, if necessary, the missiles "Iskander". S-300, s-400 able to do that?
— S-300 in the version which is in Azerbaijan, it was not a missile, but rather anti-aircraft. I think that the leadership of the Ministry of defense of Azerbaijan spoke rather about the Israeli complex that was purchased. Here it is just for protection from missiles.
But in General, "Iskander" to knock down, of course, difficult. "Iskander", except Georgia, were used, perhaps even in Syria. It is clear that Georgia has not even been able to intercept these missiles. But speaking hypothetically, the missile "Iskander" can intercept or the s-300 VM (Antey 2500) or Israeli anti-missile system, one of which is delivered to Azerbaijan.
"Iskander" like a rocket, today one of the most difficult goals. She flies off on a ballistic trajectory, she used modes of evading interception.
Again we are talking about Israel: some Armenian experts claim that Azerbaijan allegedly buys more weapons in Israel than in Russia.
— Arms market — it is very tricky. It all depends on the time interval, and this depends on who in a particular period will be a key partner. Azerbaijan and Russia has been a surge in the late 2000s-early 2010, when Russia carried out a massive supply — tanks, helicopters, air defense. This package contracts already almost closed, although until now, there are supplies of ammunition and equipment.
But after that Azerbaijan bought something in Israel, and not the cheapest service. So, due to this, in the short term, Israel came in first place. But if you look at a few years ago, Russia in the total volume of supply still comes first.
Comments
comments