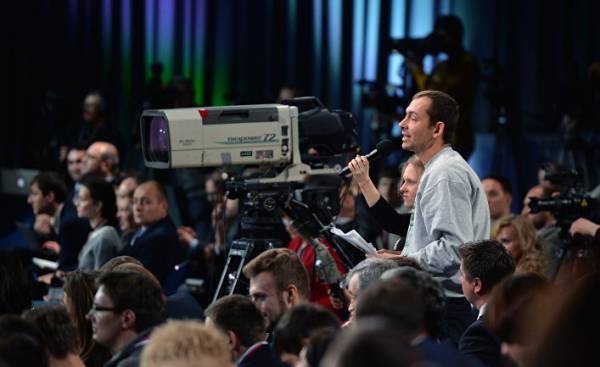 The previous part of the interview — because Of Russia to Ukraine will not be such Maidan, as earlier the journalist Roman Tsymbalyuk
— In your opinion, are there prospects for the protest movement, which is trying to organize Alexei Navalny?
— No. Absolutely no. Not want in any way to belittle the courage of people who came in modern Russia, an unauthorized action, because it is at least a fine and the maximum imprisonment. In fact some of the protest electorate there, but it is so fragmented, and there is no reason for it to somehow threaten the Putin regime. On the contrary, it will be used to say, "See, they want independence? What do we do? And we will rally around Vladimir Putin, the leader of our nation. There is Putin — there is Russia, not Putin — it's a real clusterfuck". Here on these simple things and leave. From the perspective of Ukraine should be very clearly understood that regardless of the personalities and individuals who will sit in the Kremlin, Russian state policy towards us, most likely, will not change, and if changed, then only slightly. Only our willingness to defend their country can stop them.
— Why not change?
— Because in fact the Russian society is brought up in the Imperial spirit, which is the thesis that Ukraine is not a state, and those who protect this state, the fascists and the Nazis, that Ukrainians — only those in trousers. Not just because Putin is constantly talking about single people, a single culture, but never says, for example, about one language. Not just because they put up a monument to Prince Vladimir the Kremlin walls, not just because it says Princess Anna Yaroslavna — Russian, well, almost Muscovite. Is filling the mosaic, after which any Russian with secondary education consider that he was in Ukraine, Ukrainian politics and knows what's what. It all leads to one conclusion: it will always be. The Ukrainians want to be? Well, please, wear the trousers, can sing, jumping in trousers, but if you're talking about a political nation, then no. And it lives in the Russian society. I still meet people who say that that's quite a bit — and we make up, and will the two brotherly peoples. Or, for example, they propose to talk about our bilateral relations but without the Crimea and Donbas. Wait. What is it like? So you want to talk about world peace, but your country is killing our military? No. It will not work.
— Often travel outside Moscow to the regions? What there Russian? She's different?
— We are not a lot of travel, mostly in the courts of our political prisoners. But, I feel that there is a society even more Pro-Putin, Pro-government, than in Moscow. Moscow is a big city, and as would be customary in any country to the capital, you can apply this characteristic as "the opposition". There, mass movements, mass education and other sources of information. In the regions everything is much more linear. Here is an example from my life. Once we arrived in Voronezh, when Savchenko was tried, and when I settled in at the hotel, we have the same passports of citizens of Ukraine, and the woman in age, which we were lodged was very upset that we are from Ukraine. She said, "Well, you know, what's the situation?" I replied that, of course, you know, because I'm a journalist. She says, "a Journalist?! I have to call in the FSB". It was Frank and unsophisticated, but now they have. If you are Ukrainian then you are the enemy.
— Russian man in the street he wants to see in their media that way of Ukraine? Other information he doesn't need?
— A controversial situation. If you talk with ordinary people, they have already developed an Allergy to the Ukraine, because people are already tired to live the life of neighbouring countries and he, in fact, can only sympathize. They have no internal policy of the Russian. They have Putin and the foreign policy "success": there's a bomb, those bombs, and the inner is no problem in the information space, but in life otherwise. People like and realize that they need the "Nazi Hydra" in Kiev to strangle, but, on the other hand, look straight line with Putin and ask him questions from the Russian slums, barracks… I think in such circumstances, people in Ukraine have not lived. Here is the imbalance: what they are fed on TV and how they live. Problems are not allowed to discuss. No pay, no utility conditions, no corruption. But all the talk about Ukraine as bad here, as there are poor people live, but if you measure in absolute terms, a thousand dollars in Ukraine is much more than that. It's all measured in the price of admission, although fuel is cheaper there, the price of products, the price of square meter of housing and communal services. So if we're talking about quality of life, even now, after the revolution, wars, loss of territories, rupture of the internal operational relationships, I do think that we have a standard of living largely or better, or the same. And they have Putin, they have oil, gas. And everything is done to the Russians was not a second to think why a hole in the road or another internal problem.
— "Brilliant" decision of the leader of the DND Alexander Zakharchenko on the establishment of "little Russia" — what was it?
— I do not consider it appropriate to discuss it. Zakharchenko doesn't solve anything. The level of planning is to cut the plant, squeeze the kiosk yourself or someone to give markets to redistribute. That's the limit of his competence. All political questions are decided exclusively in the Kremlin.
— So in the Kremlin have asked to say about it? For what?
— I heard the version that a lot of people in Moscow that they themselves were surprised and even criticized him. All of these attempts to rename the Ukraine boil down to one thing — everything connected with Ukraine, is destroyed. Example — the occupied territories. There is no language, no flag, and any manifestation of Pro-Ukrainian position just punished. Sometime in 2013, I was in the Duma on one round table in Ukraine, there were said a lot of stupid things and interesting things, but ultimately there is one worker said: "we Need to destroy the Ukrainian identity." That's what they're doing. Hence the attempts to withdraw from the use of the word "Ukraine".
— Ukrainian security forces a lot and often talk about the danger of loosening of the situation in the free areas of the country. While the situation is kept under control, but is there a question in the difference of approaches to which society can actually erupt?
— I come to the conclusion that our Russian neighbors have created a situation in which, in Ukraine, Maidan, as before, will be gone. Every citizen of Ukraine understands that the country needs to be the commander in chief, no matter what his name, but it should be the person who will have full legitimate right to give orders to the army to shoot to kill. This situation should not, because if you have half an hour of anarchy, the Russians will again capture Ukrainian territory and will be like Crimea. Why was the possible annexation of the Crimea? In Kiev chaos, postrevolution, the Supreme commander in fact not… So I do not think that the society now may erupt. Unfortunately, the Ukrainian authorities and these are, therefore, civil society must push them so they know that stealing is bad and it will be the responsibility.
— But if to take, for example, the question of the Church? Is there a possible conflict?
— I don't think. We have a large percentage of the people who follow all the rituals, regularly go to Church. This opinion I heard that the Church affects those who go to communion, and it is a very small percentage of people. I'm not saying they should be ignored, but we live in a secular state, unlike Russia circularise we have. In this respect, we have a much more healthy situation, and all will be well.
— Talk about the fate of the VIP fugitives: Yanukovych and Azarov. Putin hopes that some of them even "squeeze" in political terms?
— I think not. Everyone understands that it is political downed pilots. The Party of regions and its former leaders in the Kremlin there is a clear relation which can be described by the word "contempt". It's the people who blew it, and not all understood why it happened. The experience of the occupied territories shows that whoever cried in Parliament about the Russian language and "Russian world", when the territory was captured, all of them thrown in the trash, and their destiny — a part of the Russian talk show on the Russian propaganda side, branding at this point in history Poroshenko and the Ukrainian government. But knowing how many people they served there, I can say that they are not poor, and from this point of view they are fine. Only in Moscow the rich people and beautiful cars a lot, and this resource is not rare there, but the power goes only to the elite group, and they're here just fly by. Even if in the most unfortunate circumstances the Russians will continue to try to conquer the territory of Ukraine, the emphasis will be on how to put local puppets, which are shown in the TV in Lugansk and Donetsk. Moscow understands that Ukraine can not now be Pro-Russian forces. Can be criminal forces of gangster.
They feel resentment?
— I think that deep down they very sincerely regret that Russia has occupied the most Pro-Russian regions of Ukraine and have excluded them from the political agenda in Ukraine. Thus, they have closed the way to the highest echelons of Ukrainian politics.
— What do you think about the figure of Nadiya Savchenko? You've attended court hearings on her case in the Russian Federation. So long Ukraine for her trading, and now she was, to put it mildly, controversial theses.
— Whatever she said now, that is no reason to leave her or any other citizen of Ukraine in a Russian prison, regardless of whether he is a hero after returning home or not. Even if the person under torture will go crazy, will return to Ukraine and will shout "Glory to Putin". It does not matter. The country must return all the. To return to Savchenko, she was made Deputy, PACE member, hero of Ukraine, raising her price just sky high. In the end it is only thanks to her and exchanged. What she's doing now, as a representative of the Ukrainian Parliament, not near me, but she was a citizen of Ukraine can say whatever he wants, and probably make an absolute nonsense, and we have a right for it not to vote, which I feel will happen.
— That is prospects for her new party can't see?
— I think there's no chance. The essence of such projects is the same: it is possible to postmaydannoy power to be treated differently, but their goal is that democratic or some other way to remove it. That's what they're doing. Using Patriotic rhetoric or another, but the bottom line is this.
A claim to it I only have one: due to the fact that journalists, including me, have created an aura of the hero, instead of to help others a prisoner of war, she created a situation in which every Ukrainian politician thinks, and whether you need it to do? And suddenly now we will discuss the exchange, but the man is not a hero or a wrong character. Due to the fact that the topic of prisoners left in the shade after Savchenko, even in cyberspace, of this I have a big complaint. I'm these people from time to time and see it in person, for example, Evgeny Panov. When it was brought from the Crimea to Moscow, and there have been a few court sessions, do you see a man and understand that he absolutely extinct look. He began to react only when they saw the microphone. He realized that he was not abandoned, that it is the fate of someone interested. I his view I remember very well.
— Roman, why are you still not expelled from Russia, because in fact you are a constant irritant to the authorities and propagandists?
— Why do I need to expel? Most importantly, I, unlike the masses of the Russian so-called journalists never violate Russian legislation. This is the most important point. I never write and do not reflect on what will happen with Putin. I don't care. It is their country, and let them do with it what you want: even on icons paint or overthrow. It is their internal affair. In addition, all critical of my remarks, even in our conversation dealt with the war with Ukraine. Although Russia is not the most important thing. This is the first part of the question, and the second — Ukrainian journalists there a little bit, but we are in no way a threat to Russian information monopoly. Even if we have something resonant and there it just goes over, and the Russian audience does not see. However, the Internet is spinning that is already done.
— Then the question of science fiction, but still: what will happen to the regime if the Kremlin is to leave no media and informational monopoly?
— Well, it's the same, if the Kremlin will be without oil. It's impossible. Even if you look at the history of how centralized power after Boris Yeltsin, the main points considered in the extraction of channels from oligarchic elites, business groups and creation of information vertically.
Comments
comments